Cate & Chloe December Jewelry Box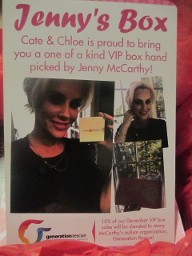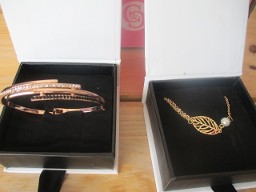 Once again Cate & Chloe with the help of Jenny McCarthy have hit it out of the park.    I love Cate & Chloe for a few reasons.  You can get the Vip box every month sent right to your door for as little as $32.00 a month.  If you want to just buy as you go you can do that too.  They have a whole shop set up for you to pick out what you really want.  They also give back.  They have different causes threw the year.  In December 10% off all VIP box sales will go to Generation Rescue an autism organization.    I also love that their jewelry is quality product.  You are not going to get some cheep flimsy jewelry.  This is beautiful and strong jewelry you will get.  These are pieces you will want to pass down for years to come.
  The Ashlyn "nature" Leaf Pearl Necklace
  This is a beautiful necklace that matches the earrings I got last month perfectly.  With a single strand side, a double strand side connected by a gold leaf and pearl.  Even though this looks like a very delicate necklace it is actually very strong.  This Necklace will be a fantastic statement piece for any collection. Retail value $89.00
  The Elise "dignified" Rose Gold Bracelet
     I have to say this is my favorite piece from Cate & Chloe.  The bracelet not only is beautiful but has a very secure clasp that is easy to use.  With the rose gold and the mix of black and white stones it's just beautiful.    This bracelet looks beautiful all by its self or with other statement pieces.  This is surly one I will be wearing for years.
 Cate and Chloe have a beautiful selection to choose from.  I really do suggest you get the VIP box you are getting pieces at a fraction of the cost and I have loved everything I have gotten. 
I would like to note all though I was given this product free to try all opinions are my own I will always be truth-full with you guys.