I got the chance to try and the prepaid card from card.com and love it.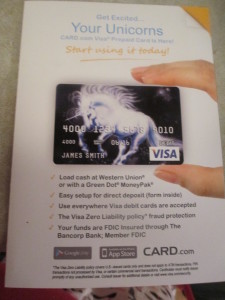 This is such a great card to use.  If you are like me Christmas time is a struggle with this great card you can have a portion on each check put right on the card and when Christmas time comes around you have all your money in one place ready to shop.   They have no credit checks , They can be used everywhere Visa or Mastercard are accepted and Atm's everywhere.   Another great thing about this card is if you do a lot of shopping online you can use the pre paid card no more worries about if someone gets ahold of your number they can not spend what is not in their.
One of my favorite parts about this company is how many card designs they had for you to choose from.  As you all know I love accessorize everything.  I love the fact that I could get a cute card and not have to pay extra to have it.  As you can see I just had to pick the unicorn.
They do have a $5.95 monthly fee but if you do at least $800.00 in direst depostis on it a month that fee is waved.  If you get federal benefits you can still use this card, just fill out the form that comes with the card to get the direct deposit started.  Transfering funds from an existing bank account is easy and free.
I really liked this card. Easy to use and great way to keep track of your money.
To get your own card head here
I would like to note all though I was given this product free to try all opinions are my own I will always be truth-full with you guys. Please see full disclosure below