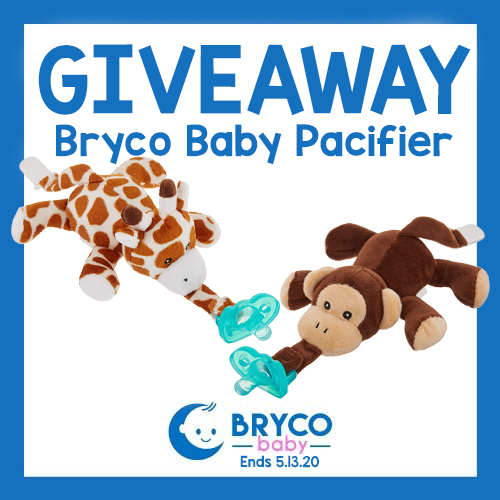 Soothing little ones helps them to relax and rest easy.  Children often find comfort in soft plush that they can embrace.  Bryco Baby detachable pacifier animals are designed to be baby's first plush. They can be attached and detached to baby's pacifier and help keep your little one from losing their pacifier.
Learn More:
Bryco Baby detachable pacifier animal holders includes pacifier, tail clip, and rattle inside plush giraffe or monkey. Machine washable made with safe certified high-grade child-friendly material. Pacifiers are a must for many babies who can only be soothed by using one. Having enough pacifiers around for them to use is crucial if you want to keep them calm. Because pacifiers are so small, it can be easy to misplace them. With the Bryco Baby Plush Giraffe and Monkey Pacifiers, your baby can enjoy all of the soothing benefits of a pacifier and a toy in one, and as the parent, you get to enjoy not having to search for the pacifier when it is dropped. The Bryco Baby Plush Giraffe and Mobkey Pacifiers are a safe, non-toxic BPA free pacifier that is attached to a plush. 
These  plush are large enough that they can be easily noticed if it becomes lost or misplaced but are small enough that your baby can easily hold onto it and support it on their own. They also come with a tail clip and pacifier strap in an effort to prevent it from getting lost as well. Because of the increased ability for them to hold and manipulate this pacifier holder, it will allow them to more easily develop their fine motor skills while they use it. Inside of the small plush giraffe on the Bryco Baby Plush Giraffe Pacifier is a rattling toy. When your little one outgrows the pacifier, they can play with the detachable plush giraffe or monkey, a toy that they will be familiar with by then, to make the transition smoother. These pacifiers make an excellent gift for a baby shower for both girls and boys alike. Get a gift that will delight both mother and child when you choose this Bryco Baby Plush Giraffe or Monkey Pacifiers.
Bryco Baby Giraffe
Bryco Baby Monkey
Features & details
⚡HIGH QUALITY MATERIAL: Our pacifier holder stuffed animal comes with a silicone pacifier made with safe certified high-grade child-friendly material. The plush pacifier stuffed animal is washing machine safe and can be your infants binky animal baby giraffe friend for years.
⚡NO MORE WASTED PACIFIERS: Our pacifier clip animal holder make missing pacifiers a thing of the past. Having a binky with animal attached makes using the detachable pacifier animal easy as your baby grows into older pacifiers.
⚡IMPROVE FINE MOTOR SKILLS: The soft stuffed animal pacifier holder helps your baby to grasp, maneuver, & manipulate the binky to their comfort. With binky animals to hold onto it helps to keep the pacifier in their mouth as they sleep throughout the night.
⚡GREAT GIFT: End your baby registry search for baby pacifiers 0-6 months here. A baby girl and baby boy pacifier, binky holder, pacifier animal clip, and rattle make this animals pacifier plush an instant favorite newborn pacifier at baby showers.
⚡Bryco Baby GUARANTEE: At Bryco Baby we stand by our products and offer a 30 day warranty if anything happens to your pacifier holder stuffed animal for boys & girls we will replace it at no charge to you. Simply contact Bryco Baby directly through the Amazon messaging system and we will be happy to assist you with any issues or difficulties you encounter. 100% customer satisfaction is what we strive for at Bryco Baby.
GIVEAWAY 
Two winners will each receive a Bryco Baby Pacifier (RV $9.97) See below for terms and conditions. Open to U.S. residents of the 48 contiguous United States. You must be 18 years old to enter to win. This giveaway ends at 11:59 PM EST on 5.13.20.
All entries will be verified—only one entrant per mailing address per giveaway. If you have won the same prize on another blog, you will not be eligible to win it again. Any person who has won a prize (or whose household has won a prize) in any promotion sponsored by the Sponsor in the past thirty (30) days before this contest start date is not eligible to win a prize in this contest. Entrants who have created social accounts purely for the purpose of entering Competitions or Sweepstakes will not be eligible to win. All social accounts used must be public.
The winner will be chosen randomly through Giveaway Tools and contacted via email. A reply to the winning email is required within 48 hours before a new winner is chosen. Void where prohibited by law. One person entering per household, please. The Review Wire, Chatty Patty's Place, and Tabby's Pantry are not responsible for shipment of prize.