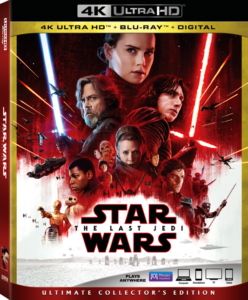 If you are a Star Wars lover then The Last Jedi is a must for your collection.  Not was only was this one of Princess Leah last movies, but it starts off with a great action scene and great humor. BB8 and Poe once again were fantastic learning it's not always about the fight.  Ray and Fin are back and fighting for the resistance. Luke is back and learns a few lessons along the way.   This was an action-packed adventure film that did justice to the Star Wars series.  I truly loved this one we even watched it twice in a row.  If you are a Star Wars lover make sure to add this one to your collection.
Director Rian Johnson takes fans on an intimate journey into the creation of Star Wars: The Last Jedi in a feature-length documentary, explaining his unique interpretation of the Force, detailing the painstaking process of creating Snoke, and deconstructing action-packed scenes from the film such as the epic space battle and the final confrontation. Johnson also reveals two exclusive scenes, featuring Andy Serkis as Snoke prior to his digital makeover, as well as 14 never-before-seen deleted scenes, in addition to his audio commentary.
Bonus features include*:
The Director and the Jedi – Go deep behind the scenes with writer-director Rian Johnson on an intimate and personal journey through the production of the movie—and experience what it's like to helm a global franchise and cultural phenomenon.
Balance of the Force – Explore the mythology of the Force and why Rian Johnson chose to interpret its role in such a unique way.
Scene Breakdowns
o   Lighting the Spark: Creating the Space Battle – Get a close-up look at the epic space battle, from the sounds that help propel the action, through the practical and visual effects, to the characters who bring it all to life.
o   Snoke and Mirrors – Motion capture and Star Wars collide as the filmmakers take us through the detailed process of creating the movie's malevolent master villain.
o   Showdown on Crait – Break down everything that went into creating the stunning world seen in the movie's final confrontation, including the interplay between real-word locations and visual effects, reimagining the walkers, designing the crystal foxes, and much more.
Andy Serkis Live! (One Night Only) – Writer-director Rian Johnson presents two exclusive sequences from the movie featuring Andy Serkis' riveting, raw on-set performance before his digital makeover into Snoke.
Deleted Scenes – With an introduction and optional commentary by writer-director Rian Johnson.
Audio Commentary – View the movie with in-depth feature audio commentary by writer-director Rian Johnson.
I got this free in exchange for an honest review