We got this awesome movie free in exchange for an honest review all opinions are our own.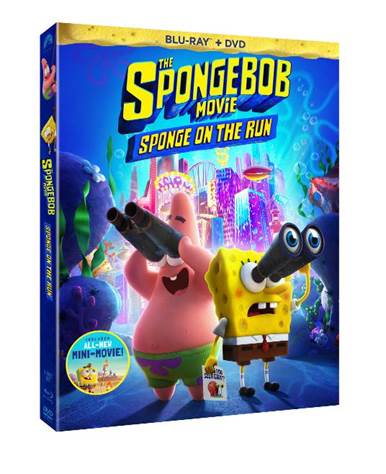 Who Lives In A Pineapple Under The Sea? Spongebob Square Pants.   I don't know about you but once I hear this i am singing it all day long.  Me and little guy love a great movie night and this is what we will be watching this week.  Who is your favorite?
Dive Deep Into an Ocean of Bonus Features Including a New Mini-Movie,
Deleted Storyboard Scenes, Sing-Along Music Videos, Arts and Crafts and More!
The Blu-ray and DVD releases are overflowing with an ocean of fun-filled bonus content for kids to enjoy at home this summer: Continue the Kamp Koral adventure with young SpongeBob and Patrick in their all-new mini-movie! Plus, check out deleted storyboard scenes, then sing-along and dance with lyric and music videos by Snoop Dogg & Monsta X, Tainy & J. Balvin, and more. Learn to draw young SpongeBob and young Gary with step-by-step activity lessons, then explore behind-the-scenes with the cast, crew and characters of this wildly fun animated movie.
Synopsis:
SpongeBob SquarePants, his best friend Patrick, and the Bikini Bottom gang star in their most epic adventure movie yet! When SpongeBob's beloved pet snail Gary goes missing, a path of clues leads SpongeBob and Patrick to the powerful King Poseidon, who has Gary held captive in the Lost City of Atlantic City. On their mission to save Gary, SpongeBob and his pals team up for a heroic and hilarious journey where they discover nothing is stronger than the power of friendship.
BONUS FEATURES ON BLU-RAY & DVD
Mini-Movie – I'm Urchin You To Leave
Campfire Songs

Agua Music Video by Tainy & J. Balvin
How We Do Lyric Video by Snoop Dogg and Monsta X
Krabby Step Lyric Video by Tyga, Swae Lee & Lil Mosey
Agua Lyric Video by Tainy & J. Balvin

Campfire Stories

Deleted Storyboard: Wake Up
Deleted Storyboard: Sumo Ninja

Camp Coral Buddies

The Ballad of SpongeBob and Patrick!
I ♥ Camp Coral by SpongeBob SquarePants

Camp Arts and Crafts

Drawing the Cutest Camper Ever
Drawing the Cutest Snail Ever
The Amazing Stages of Animation

But Wait…There's S'mores!

The Wonders of the Patty Mobile