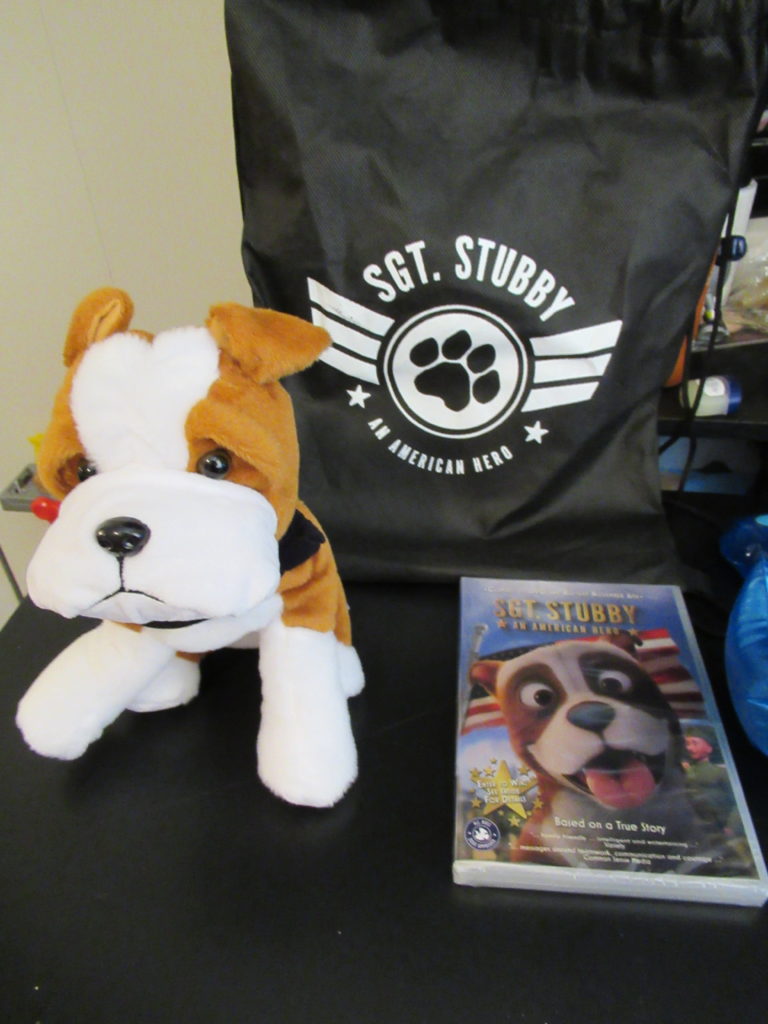 When we went to New York this year for the toy show our swag box showed up with the cutest dog.  We opened the package and we got an advanced copy of Sgt. Stubby: An American Hero.   I knew that my little guy would love it but even more I knew my nephew would go nuts for it.  Not only does he loves stuffed animals but anything with puppies is a must with him.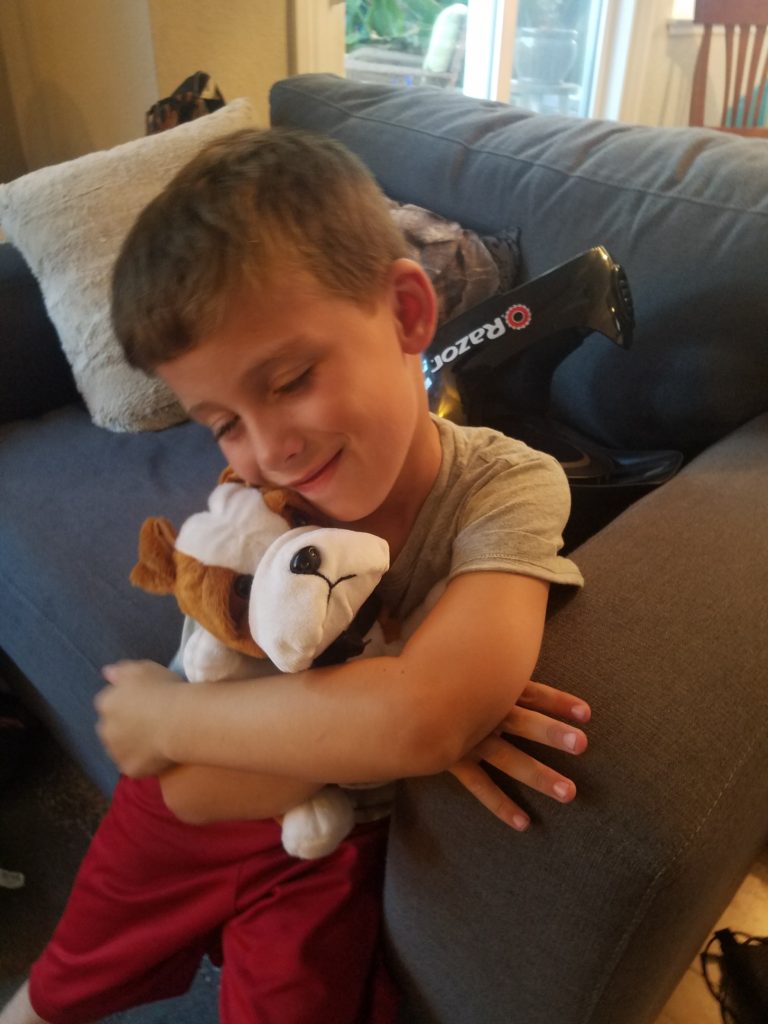 I saved this great set till we got to go visit my sister and it was a smash hit.  All the boys were running around like crazy and we all needed a break so we stuck the movie in.  They were all sucked in and watching in seconds.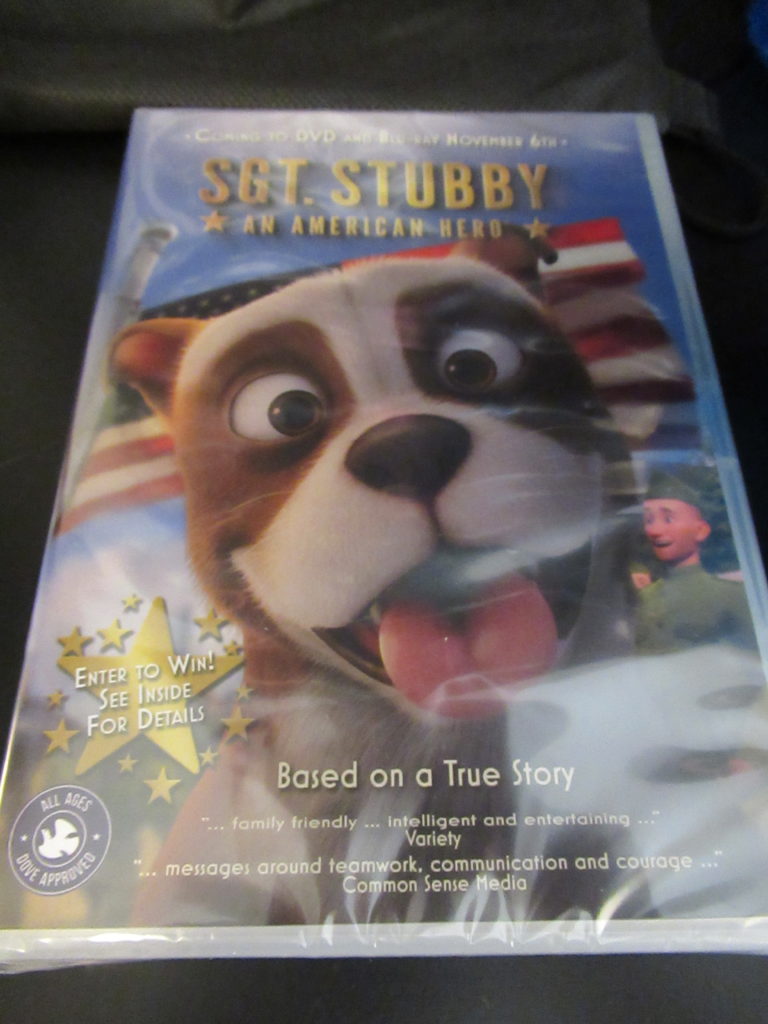 Now as most of you know I normally do not post Spoilers but I was asked one question over and over.  Here it is no the puppy does not die do not worry.  I would normally not post that but I had a lot of parents worried that their kids were going to be heart broken.
This is a great story about how a lonely dog found his forever human and did everything he could to stay and protect him.  During a time of war, he helped save many lives including his friends.  He truly was an American hero.
We loved the movie and thing it should definitely be on everyone's Holiday Gift Guide this year.  Just make sure to buy extra stuffed animals one for each kid. Lol
Sgt. Stubby: An American Hero is out on DVD November 9th
A Doggone Great Holiday Gift … Critically-Acclaimed and Dove-Approved Family 'Tail,' Sgt. Stubby: An American Hero, Marches Onto VOD, DVD & Blu-ray Nov. 6th
Based on the Real-Life Story of the First and Most Decorated War Dog in American History,
Heartwarming Film Stars Logan Lerman, Helena Bonham Carter and Gerard Depardieu
 "The exploits of Sgt. Stubby … feel a lot like those of Lassie or Rin Tin Tin … But here's the thing about Stubby:
He was as real as they come … worth a salute or two."  – Plugged In, Focus on the Family
"A very cute, educational and inspiring film for child audiences."  – Tribune News Service Family Guide
"…an engaging story … Who doesn't like a rousing ruff-and-ready tale of doggy derring-do?"  – RogerEbert.com
3 stars [out of four] "… a tale that has plenty of warmth and charm … sure to appeal to its audience."  – Toronto Star
 "…civilians with a soft spot for a stray will not hesitate to enlist."  – The Washington Post
"… this heartwarming production will have tails wagging …"  – ParentPreviews.com
"… adorable … will remind some of classic Disney films." – Boston Herald
COLUMBUS, Ga. – Aug. 2, 2018 – For Immediate Release – Marching onto VOD, Blu-ray and DVD Nov. 6 with an all-star cast, Sgt. Stubby: An American Hero is a heartwarming, critically acclaimed, animated "tail" for the entire family and a doggone, tail-wagging, holiday gift.  On this hero's mission, nothing's impawsible!
Documented in history books but largely forgotten, Sgt. Stubby: An American Hero is based on the incredible, true story of the unbreakable bond between a young Soldier on the brink of World War I and a little, stray dog, who for his valorous feats is still recognized today as the first dog promoted to the rank of Sergeant in the U.S. Army, the most decorated dog in American history and is widely considered the forerunner to the U.S. Army's working dog program. This computer-animated feature shows the world that the greatest heroes can come from the unlikeliest of places.
Following a successful theatrical run on nearly 2,000 screens across the U.S. and Canada and coinciding with the year-long 100th commemoration of the United States' role in the "War to End All Wars," Sgt. Stubby: An American Hero was directed by award-winning documentarian Richard Lanni and stars Logan Lerman (Fury, The Perks of Being a Wallflower, Percy Jackson & The Olympians), Helena Bonham Carter (Ocean's 8, the Harry Potter films, The King's Speech, Sweeney Todd) andGerard Depardieu (Life of Pi, Cyrano De Bergerac, The Man in the Iron Mask, Green Card).
Featuring both contemporary and "vintage sequences" of animation – to immerse viewers in the history of era – by Mikros Animation (a Technicolor company) and an original score by Patrick Doyle (Brave, Thor, Cinderella, Harry Potter and the Goblet of Fire), Sgt. Stubby: An American Hero was produced and distributed by Fun Academy Motion Pictures. Screenwriters are Richard Lanni and Mike Stokey II (Band of Brothers, The Pacific, Alexander, Born on the Fourth of July), with editing byMark Solomon (Frankenweenie, Chicken Run, Shark Tale, Sherlock Gnomes).
Special Features:
"Making of Sgt. Stubby" Featurette With Behind-the-Scenes Footage and Cast Interviews
"The Real-Life Story of Stubby" Documentary Short – Photo Gallery of Historic Photos and Production Artwork
Spanish Subtitles – Closed Captioning – Descriptive Audio
Genre:  Animated/Family/Adventure/History Street Date: Nov. 6, 2018
Feature Run Time:  Approx. 84 Minutes (Plus Special Features) MPAA Rating:  PG
SRP: $14.99 (VOD/SD)/$19.99 (VOD/HD)/$19.99 (DVD)/$22.99 (Blu-ray)/$29.99 (DVD/Blu-ray Combo)
Tech Specs: 16×9 Anamorphic Widescreen (1.85:1)/5.1 Surround Sound Stereo
Catalog #s: FA101 (Blu-ray)/FA102 (DVD)/FA103 (DVD/Blu-ray Combo)
UPC Codes: #857549008000 (Blu-ray)/#857549008017 (DVD)/#857549008024 (DVD/Blu-ray Combo)
Pre-Order:
DVD, Blu-ray & Stubby Merchandise:  www.FunAcademyStudios.com
Amazon (Prime Eligible):  Coming soon
iTunes:  Coming soon
The true story of Sgt. Stubby will resonate with parents, educators, animal lovers, military supporters and history buffs alike. The film has been selected as an official project of the United States World War One Centennial Commission and its French counterpart, La Mission du Centenaire 1914-18; additional endorsements and educational partners include the Connecticut State Library, the National Infantry Museum Foundation, the National World War I Museum & Memorial and the Lowell Milken Center for Unsung Heroes.
Beyond his military exploits, Stubby's status as an adopted stray has resulted in nearly a century of recognition by animal rescues and welfare organizations and Fun Academy, as part of the film's theatrical release, partnered with more than 90 regional and national animal organizations across all 50 states to shine a light on the human-animal bond and the amazing things adopted animals can do when given a chance in life.
About Sgt. Stubby: An American Hero … With the "War to End all Wars" looming, the life of Army "doughboy" Robert Conroy (Lerman) is forever changed when a little stray dog with a stubby tail wanders into a training camp in New Haven, Conn.  Conroy gives his new friend a meal, a name, a family and the chance to embark on an adventure that would define a century.
Narrated by Robert's sister Margaret (Bonham Carter), Stubby and his new best friend quickly find themselves in the trenches of France. Befriended by French poiluSoldier Gaston Baptiste (Depardieu), Stubby accompanies the duo along their epic journey through harsh conditions and incredible acts of courage.
For valorous actions above and beyond his small stature, Stubby is recognized as the most decorated dog in history and the first dog promoted to the rank of Sergeant in the U.S. Army, showing the world that the greatest heroes can come from the unlikeliest of places.
About the Real-Life Stubby … Before he was a hero, Stubby was homeless, unwanted, unwashed and unloved, scrounging for scraps on the streets of New Haven, Conn. in 1917 Until he was taken in by Private First Class Robert Conroy of the 102nd Infantry Regiment, 26th "Yankee" Division.
In France, Stubby saw frontline action in four offensives and 17 battles. He found wounded Soldiers, saved an entire company by alerting the men to don gas masks and even caught a German spy. After the recapture of Chateau-Thierry, the women of the town made him an embroidered jacket that would serve as Stubby's uniform and display his numerous awards throughout the rest of his career.
His exploits made front-page news in the U.S. and earned him the rank of Sergeant, the first time an animal is recognized as having been promoted through combat. Returning home to a hero's welcome, Stubby and Conroy toured the country leading victory parades and met three sitting U.S. presidents, among other honors.
About Fun Academy Motion Pictures: Fun Academy Motion Pictures is a Georgia-based film studio bringing innovative educational entertainment to audiences worldwide through partnerships with motion picture exhibitors. Fun Academy is a trademark of Fun Academy Incorporated – a wholly-owned subsidiary of Fun Academy Media Group, Ltd., an Irish corporation – and is registered in the United States of America and the European Union.
# # #
For artwork, educational materials and other assets: http://bit.ly/2t1qQPU
Join the Conversation …
Visit us online:  www.StubbyMovie.com
Like us:  www.Facebook.com/StubbyMovie / www.Instagram.com/StubbyMovie
Follow us: www.YouTube.com/StubbyMovie / www.Twitter.com/StubbyMovie
I got this free and was not required to do a review but I loved it.