We got Ron's Gone Wrong digital download free in exchange for an honest post.  Al opinions are my own.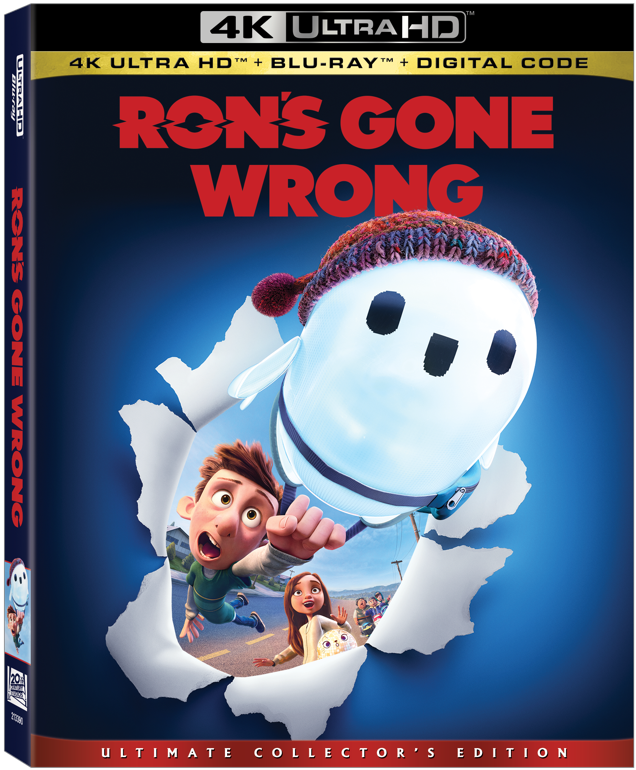 As most of you know we don't get to go to the movies.  Little guy can not handle sitting in the theater.  When he saw the trailer for Ron's Gone Wrong he went nuts. This was one of the first times that he saw a trailer and never forgot it.
When we got the digital download we could not even wait 1 day to watch he was ready with his juice and pop corn right away.
This is a great movie about a B-Bot. Names Ron.  In a world full of technology you can now have a robot that is your best friend and knows everything about you.  This friend will never be more then 6 feet away and will help you with anything you need.
When Barney's birthday comes all he really wants his is own B-Bot.  They are expensive and his dad finally gets a chance to get him one.  One thing is wrong, Ron can not connect to the network and does not have any of the right programing.  So barney starts making up his own programing and teaching Ron.  Everyone can see that Ron is wrong but him and Barney are best friends and they will do anything to save each other.
Bring Home Your New Best Friend This Holiday Season
Ron's Gone Wrong Crashes On To 4K Ultra HD™, Blu-ray™ and DVD December 7 and Digital December 15
LOS ANGELES, CA (November 17, 2021) – Certified-Fresh on Rotten Tomatoes™, Ron's Gone Wrong from 20th Century Studios and Locksmith Animation arrives just in time for the holidays on 4K Ultra HD, Blu-ray and DVD December 7 and Digital December 15. Witness the crazy adventures between a B*Bot and his human best friend, as they discover self-acceptance and courage along the way.
Film Synopsis
Things go hilariously awry when Barney, a socially awkward middle-schooler, receives a malfunctioning, digitally connected device that's supposed to be his "best friend out of the box." In this action-packed animated story set against the backdrop of the social media age, a boy and his robot discover the wonderful messiness of true friendship.
Bonus Features*
A Boy and His B*Bot: When Jack Met Zach – Zach Galifianakis and Jack Dylan Grazer, the voices behind Ron and Barney, sit down to chat about a fun assortment of topics. From social media to skateboarding, the two actors from two very different generations tell us all about when Jack met Zach.
Making Ron Right – Join cast and crew behind the scenes as they reveal the skill, dedication and friendship it took to bring this film to life. From writing the script to the voice-over booth, Locksmith's artisans detail how they made Ron right.
"Sunshine" Music Video – Song from the motion picture Ron's Gone Wrong, performed by Liam Payne.
*bonus features vary by product and retailer
Credits
Cast
Jack Dylan Grazer as Barney Pudowski
Zach Galifianakis as Ron
Olivia Colman as Donka Pudowski
Ed Helms as Graham Pudowski
Justice Smith as Marc Wydell
Rob Delaney as Andrew Morris
Kylie Cantrall as Savannah Meades
Marcus Scribner as Alex
Ricardo Hurtado as Rich
Thomas Barbusca as Jayden
Directed by
Sarah Smith
and Jean-Philippe Vine
Co-Directed by
Octavio E. Rodriguez
Produced by
Julie Lockhart
Lara Breay
Executive Producers
Sarah Smith
Peter Baynham
Elisabeth Murdoch
Written by
Sarah Smith
and Peter Baynham
Music by
Henry Jackman
Product Specifications
Street Date
Digital: December 15
Physical: December 7
Product SKUs
Digital: 4K UHD, HD, SD
Physical: 4K UHD, HD, SD
Feature Run Time
Approx. 107 minutes
Rating
U.S. Rated PG
Bonus material not rated
Aspect Ratio
Digital: 2.39:1
Physical: 2.39:1