To Celebrate National Library Day, celebrated on April 16, Nat Geo Kids has a flock of books that will surely take flight! In addition to winning a set of books for yourself, they are offering to send a set to your local library of choice! Flutter on down below to enter!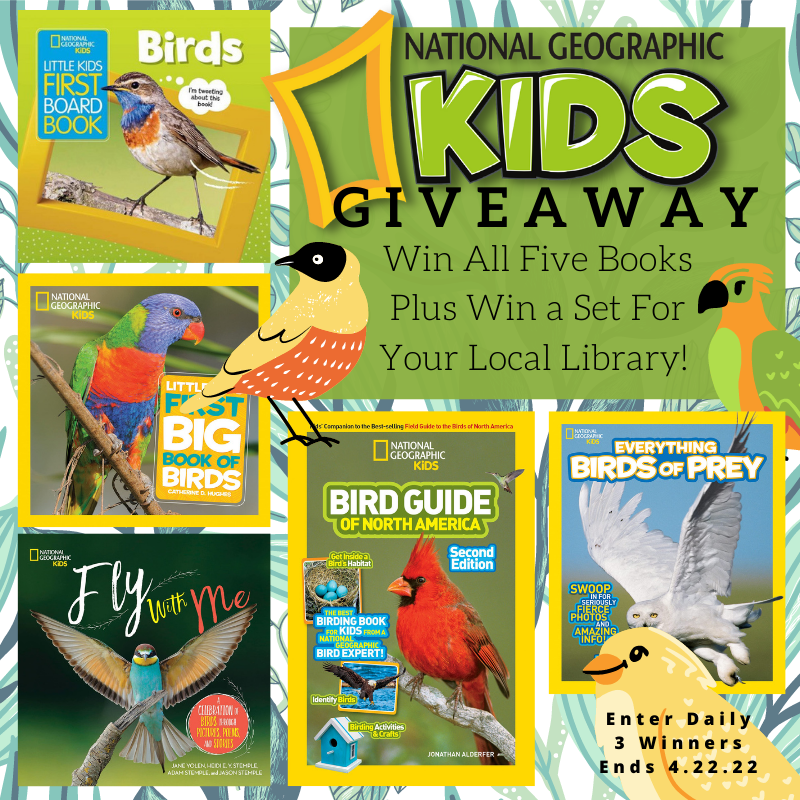 What a great way t start off spring with some awesome bird books.  I love Nat Geo for homeschooling.  We learn so much and they always have great pictures to go with everything.
Little Kids First Board Book: Birds (board book, ages Baby-3)
Designed to be the stepping stone to the best-selling National Geographic Little Kids First Big Book series, the Little Kids First Board Book series takes similar big subjects and distills them down to the simplest nonfiction concepts for the youngest audience. Not only will readers learn about a variety of birds, but they can also find recurring shapes and patterns in the art. At the same time, adults can keep their eyes open for occasional funny commentary from the animals. With their bright and playful design, fantastic photography, clear text, and cues to encourage interactive learning, the Little Kids First Board Books take a fresh new approach in making learning about nature and science fun.
"Parents, teachers, and curious children will be fascinated by this excellent introduction to birds. VERDICT Lush nature photography, concise language, a large print size, and a browsable layout: this offering is ideal for home, school, and library use" – School Library Journal
This adorable reference introduces young readers to birds of all kinds: big and small, flyers and swimmers, colorful and plain. They'll find backyard favorites, such as robins and cardinals, and be introduced to more unique species that inhabit rainforests and deserts worldwide. Bird behaviors kids can relate to, including singing, dancing, building, swimming, and diving, reveal fascinating insights into the avian world. More than 100 colorful photos are paired with profiles of each bird, along with facts about the creatures' sizes, diets, homes, and more. This charming book will quickly become a favorite at storytime, bedtime, and anytime.
Fly With Me: A Celebration of Birds Through Pictures, Poems and Stories (hardcover, ages 4-8) by Jane Yolen and Heidi Stemple
This thoughtful and beautifully curated collection of our flying, feathery friends highlights the role birds play in human life from centuries ago to today. While it's beautiful and contains many original poems, it's also full of real valuable science about these wondrous creatures. From history and behavior to spotting and photographing, there's something for every bird fan in the flock. Young birders will learn all about migration and the importance of habitat conservation. They'll find stories about bird rescues and fun facts about the fastest, strongest, and tiniest fliers. They'll also discover the best bird nests, sweet songs to sing, ways to listen for and identify the birds around them, and more.
National Geographic Kids Bird Guide of North America, Second Edition (paperback, ages 8-12)
Fly into the world of birds in the most complete guide for kids to North America's birds, featuring range maps, cool facts, interactive activities and crafts, and detailed descriptions and drawings by Jonathan Alderfer, one of the country's top avian experts and artists. The guide features profiles of 50 of North America's most popular birds–including how and where they live and tips about how to spot, hear, and attract them–and mini-profiles of another 100 birds for coverage of 150 bird species in all.
Everything Birds of Prey introduces readers to the world's most ferocious fliers from eagles to falcons and talons to beaks. With stunning visuals and energetic, impactful design, readers won't stop until they've learned everything there is to know about birds of prey.
Stay Connected: #NationalLibraryDay and #thankalibrarian
Three winners will each receive Everything Birds of Prey NG Kids Bird Guide of North America 2nd ed, Fly With Me: A Celebration of Birds Through Pictures, Poems and Stories Little Kids First Big Book of Birds, and Little Kids First Board Book: Birds ($78). Open to U.S. residents of the 48 contiguous United States. You must be 18 years old to enter to win. This giveaway ends at 11:59 PM EST on 4.22.22. See below for terms and conditions.
☔️ APRIL SHOWERS HOP ☔️
You are invited to the Inlinkz link party!