We got this set free in exchange for an honest post all opinions are our own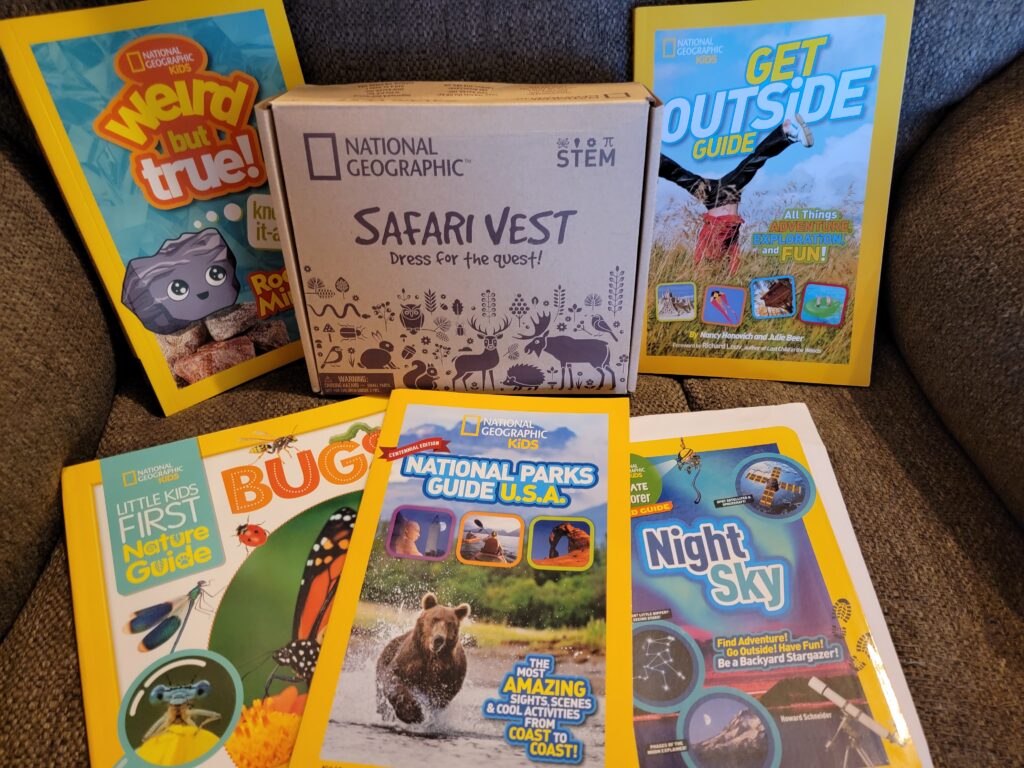 We homeschool so we use every change we get to, get a little learning in.  We no longer so summer break like we used to because there are so many chances to learn every day.  I love the Nat Geo books they are fun to read and they can get us outside and learning all year round.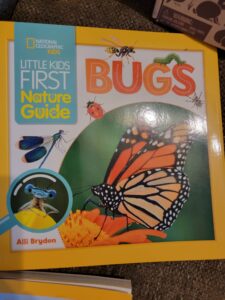 Discover the many insects, spiders, and other creatures―aka BUGS!―that creep, crawl, and fly around your neighborhood and beyond.

Young explorers learn where, when, and how to safely and kindly find insects, spiders, and other creepy-crawlies such as worms and pill bugs with this fun and sturdy take-along guide. Features include:

Easy-to-understand profiles of a variety of insects and spiders commonly found in North America, along with some exotic bugs from around the world
Vibrant 

National

 

Geographic

 photography that brings the subject matter to life
"Check Me Out!" fact boxes that provide more information about each creature, including size and color, where it's found, and what it eats
Basic facts about insect and spider anatomy and life cycles
Tips on how to how to become keen observers and explorers, and how and where to spot insects and spiders
Fun facts sprinkled throughout
Simple text for reading aloud or for beginning readers
Ideas for related activities
A helpful glossary
Flexible binding for durability
This fun-filled guide inspires kids to get out of the house and explore the great outdoors, whether in their backyard, across the country, or around the world. Full of fun activities, kids will learn how to make backyard bird baths, explore their local state parks, participate in an outdoor community event, and much more. Activities for every season and rainy day activities are also included. Facts, lists, and sidebars supplement activities to help put information into 

geographic

, scientific, and/or historical context, to help kids dig deeper and learn more.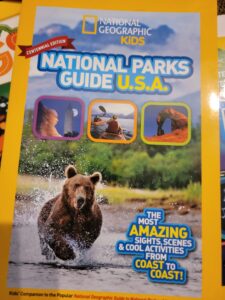 Read all about these greatest of American treasures — from Acadia to Zion — in preparation for a parks visit sometime soon. Filled with color photos, information on animals, fascinating lists, facts, maps, cool things to do, conservation tips, and much more — think of this book as your trusted guide to these most majestic of places.
This photo-filled, fact-packed night sky guide encourages kids to stop and look up to spot stars and planets right from their own backyards. From Mars to meteor showers, Scorpius to satellites, kids will learn how, where, and when to spot these space-dwelling phenomena in the night sky at any time of year. With tons of info and interactivity prompts, it's the perfect companion for backyard field trips, camping or vacation. Durable and portable, it's just right for your pocket or backpack!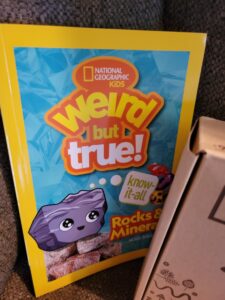 Weird But True Know It All: Rocks and Minerals (ages 8-12, paperback)
Did you know that Montana's Grasshopper Glacier is filled with millions of frozen locusts that got caught in a storm more than 300 million years ago? 
Or that Roman soldiers were said to get some of their pay in salt, and the word salary comes from "sal," the Roman word for salt?
In this latest single-subject Weird But True! book, readers will learn about everything from rocks in outer space to precious gems found in Earth's deepest oceans and everything in between, including rock-related careers, art, geography, history, consumer products (did you know the average car has 44 pounds of copper in it??) and simple tools, tips and "how to's" to get outside and become a rock hound!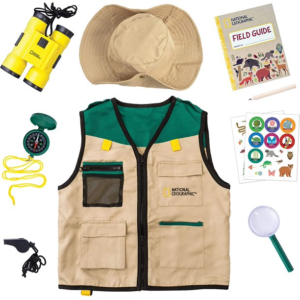 This set is cute and amazing.  The only thing I would change is to make a set in my size too so we can match.
National Geographic Backyard Safari Kit (ages 6+)
Dress for adventure! The 

National

 

Geographic

 Backyard Safari Kit includes a safari vest featuring handy cargo pockets and carry tabs, a safari hat and loads of gear for making the most out of any outdoor adventure including a magnifying glass, compass, whistle, and pair of binoculars, all made specially for kids with durability and safety in mind. The set also comes with a mini pencil and field guide that details characteristics of the different types of animals and plant life your kids will see and provides pages for them to record their observations.
About the Get Outside Giveaway: The giveaway consists of all 6 items listed above (the 5 books and the Backyard Safari Kit) with an ARV of $114.  US only please and we are happy to ship to your winner.
Here are some links/social media info that may prove helpful:
 @NGKidsBks and @mediamastersbks

 #EscapeTheIndoors, #GreatOutdoorsMonth, #GetOutdoorsDay
Open to U.S. residents of the 48 contiguous United States. You must be 18 years old to enter to win. This giveaway ends at 11:59 PM EST on 6.28.22. See below for terms and conditions.
All entries will be verified—only one entrant per mailing address per giveaway. Any person who has won a prize (or whose household has won a prize) in any promotion sponsored by the Sponsor in the past thirty (30) days before this contest start date is not eligible to win a prize in this contest. If you have won the same prize on another blog, you will not be eligible to win it again. Entrants who have created social accounts purely to enter Competitions or Sweepstakes will not be eligible to win. All social accounts used must be public.
The winner will be chosen randomly through Sweep Widget and contacted via email. A reply to the winning email is required within 48 hours before a new winner is chosen. Void where prohibited by law. One person entering per household, please. Chatty Patty's Place, Tabby's Pantry, and The Review Wire are not responsible for the shipment of the prize