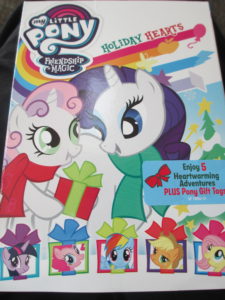 My little pony is back again to bring you another great adventure.  I am so excited that these six episodes will help bring some fun into the holidays.  We love My Little Pony as I have said before I remember this show from when I was young and I love that my son can now enjoy new episodes too.    If you are a My Little Pony lover and love to add great new holiday shows to your collection make sure to pick this one up.
Los Angeles, CA – Gather around for six hearth-warming tales!My Little Pony – Friendship Is Magic: Holiday Hearts is coming to DVD on October 3 in the U.S. and Canada from Shout! Kidsin collaboration with Hasbro Studios. 
'Tis the season to celebrate with family and your very best friends. But you know that no holiday in Equestria is complete without a little adventure. Join Twilight Sparkle, Spike, Pinkie Pie, Applejack, Rainbow Dash, Rarity and Fluttershy as they embark on six exciting adventures sure to put you in the holiday spirit!
My Little Pony – Friendship Is Magic: Holiday Hearts carries a suggested list price of $14.98 and is now available for pre-order at amazon.com and shoutkids.com.
Episodes Include:
Applebuck Season
Winter Wrap Up
Castle Sweet Castle
Hearthbreakers
A Hearth's Warming Tail
Not Asking For Trouble
Bonus Feature:
Sing-Along
 One lucky U.S winner will get their very own copy Good Luck All
I got this free in exchange for an honest review.