The second season of DreamWorks Harvey Girls Forever is premiering exclusively on Netflix May 10th! Experience the Harvey Girls' high-jinx and adventures in 13 all-new episodes filled with original music, friendships and childhood nostalgia. Additionally,  excitement on Harvey Street will be at an all time high as the crushiest boy band in the crushiverse is back! Check out Nick Lachey (98 Degrees) as "Auden", Joey Fatone (NSync) as "J-Frog", Joey McIntyre (New Kids on the Block) as "Xaden" and Shawn Stockman (Boyz II Men) as "Mortimer" perform as band, Crush 4U. Fans can also  visit the Crush 4U microsite and listen to 15 second clips of the awesome songs as well as download full versions.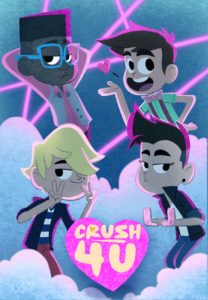 This season, the Harvey Girls have a face-off with their pesky older siblings to reclaim their stake as the guardians of Harvey Street. Joining in as the older siblings are guest stars, Anna Camp (Pitch Perfect), Chelsea Peretti (Brooklyn Nine-Nine), and Nat Faxon (The Epic Tales of Captain Underpants).
Synopsis: The girls of Harvey Street are back with more awesome adventures in their never-ending quest for fun on the best block in the world. Even when their pesky older siblings try to take over, best friends Audrey, Lotta and Dot are there to keep the neighborhood kid-ruled and adult-free. And when the girls come face-to-face with their all-time favorite boy band, Crush 4 U, Harvey Street may never be the same!