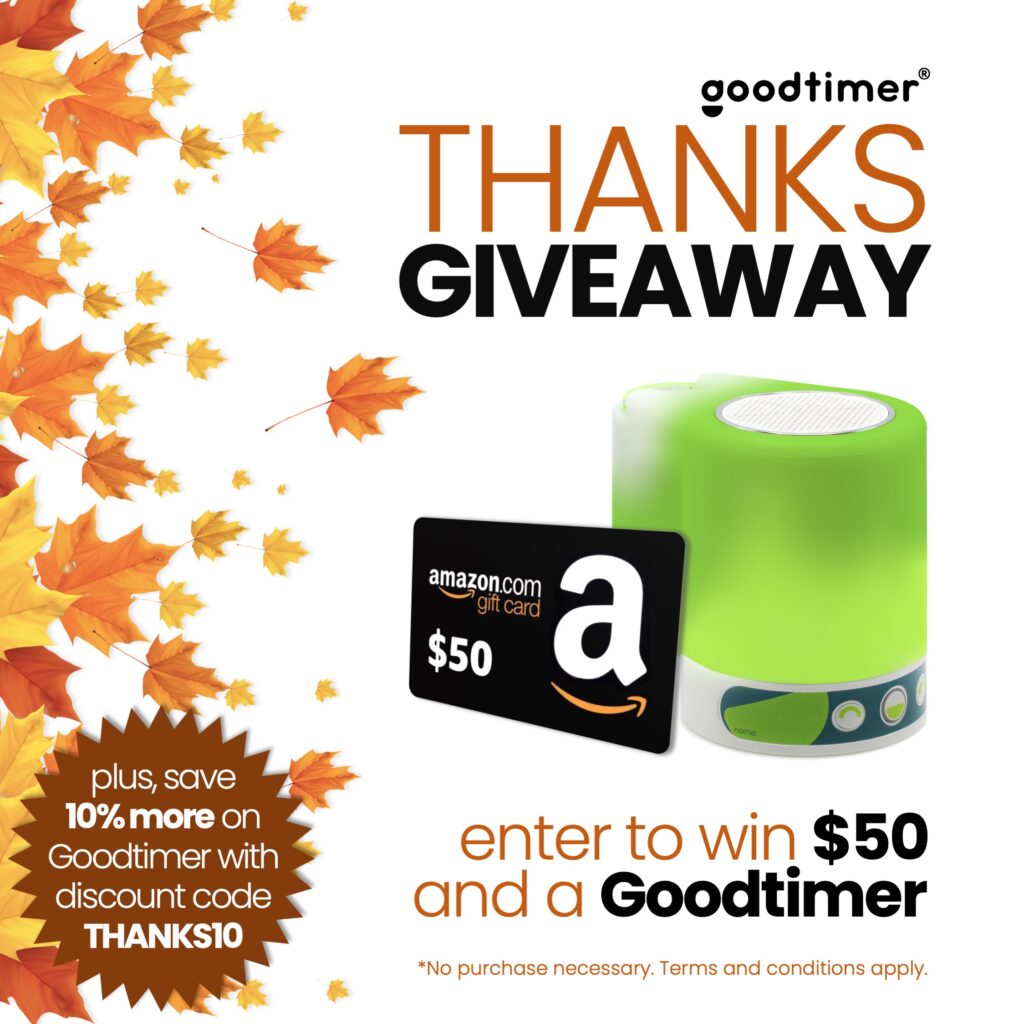 PRIZE: 
𝗔 𝗚𝗼𝗼𝗱𝘁𝗶𝗺𝗲𝗿 (a $79.95 value)
𝑨𝑵𝑫 a $𝟱𝟬 𝗔𝗺𝗮𝘇𝗼𝗻 𝗚𝗶𝗳𝘁 𝗖𝗮𝗿𝗱 
DETAILS:𝙏𝙤 𝙨𝙝𝙤𝙬 𝙤𝙪𝙧 𝙖𝙥𝙥𝙧𝙚𝙘𝙞𝙖𝙩𝙞𝙤𝙣 𝙩𝙤 𝙩𝙝𝙚 𝙖𝙢𝙖𝙯𝙞𝙣𝙜 @𝙂𝙤𝙂𝙤𝙤𝙙𝙩𝙞𝙢𝙚𝙧 𝘾𝙤𝙢𝙢𝙪𝙣𝙞𝙩𝙮, 𝙂𝙤𝙤𝙙𝙩𝙞𝙢𝙚𝙧 𝙞𝙨 𝙜𝙞𝙫𝙞𝙣𝙜 𝙤𝙣𝙚 𝙡𝙪𝙘𝙠𝙮 𝙛𝙤𝙡𝙡𝙤𝙬𝙚𝙧 𝙩𝙝𝙚 𝙘𝙝𝙖𝙣𝙘𝙚 𝙩𝙤 𝙬𝙞𝙣 𝘽𝙄𝙂 𝙞𝙣 𝙤𝙪𝙧 𝙏𝙝𝙖𝙣𝙠𝙨-𝙂𝙄𝙑𝙀𝘼𝙒𝘼𝙔! 
TO ENTER:
1) Follow GoGoodtimer on Instagram and
2) Tag 3 friends in the post
The contest will close on Thanksgiving day, Thursday, Nov. 25th at 11:59pm PST and one randomly selected winner will be announced on Black Friday, Nov. 26th.
𝐆𝐨𝐨𝐝 𝐋𝐮𝐜𝐤!
RULES: Per Instagram rules, we must mention this 
giveaway
 is in no way sponsored, administered, or associated with Instagram inc. By entering, entrants confirm they are 18+ years of age, release Instagram of responsibility, and agree to Instagram terms of use. No purchase is necessary. One entry per Instagram account. Open to US and Canada Residents only.
Per Instagram rules, we must mention this giveaway is in no way sponsored, administered, or associated with Instagram inc. By entering, entrants confirm they are 18+ years of age, release Instagram of responsibility, and agree to Instagram terms of use. No purchase necessary. One entry per Instagram account. Open to US and Canada Residents only.
P.S. Goodtimer is offering an exclusive promo code THANKS10 where contest participants can save an additional 10% off their already low Black Friday sale price at the Goodtimer website GoGoodtimer.com. Supplies are limited, so don't miss out!