I got the Ninja Intelli-Sense Kitchen System free in exchange for an honest review.  All opinions are my own.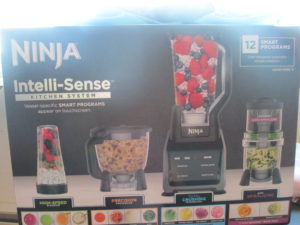 Are you always trying to eat healthier? If you are like me you are always trying, but it really is very time consuming and very expensive.  All the different machines you need then all the counter space.  It really does get to be way too much some times.  Then Ninja Intelli-Sense Kitchen System came along and said let us take care of that for you.  They came out with a fantastic combo machine that will do almost everything in one base.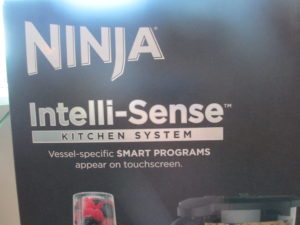 Let me tell you a little bit about this awesome system.  The Ninja comes with 1 base and 4 different tops to work with.  The blender cup, The blender pitcher, the spiralizer and the processor.  Whenever you put a top on the base, the base will sense which one it is and change the setting accordingly.  This is amazing.
I love that if I am making a smoothie for myself I can use the single cup and just click on the lid.  Its ready to go.  When I want to make enough for the whole family I can use the picture.   The processor was just like having a whole different food processor.  It worked fantastic, but took up a whole lot less room.  I was truly impressed with how easy this was to use.  I really could not make a mistake the system was right on with everything.  Just click the button and I was done.
The only difficult thing about this Ninja Intelli-Sense Kitchen System was deciding where it should go in the Holiday Gift Guide.  This is truly one of those gifts that would make a perfect gift for almost anyone on your list.  Even my 7-year-old on loves it.
I got this free in exchange for an honest review