We got Tom and Jerry Cowboy Up Free In exchange for an Honest post.  All opinions are our own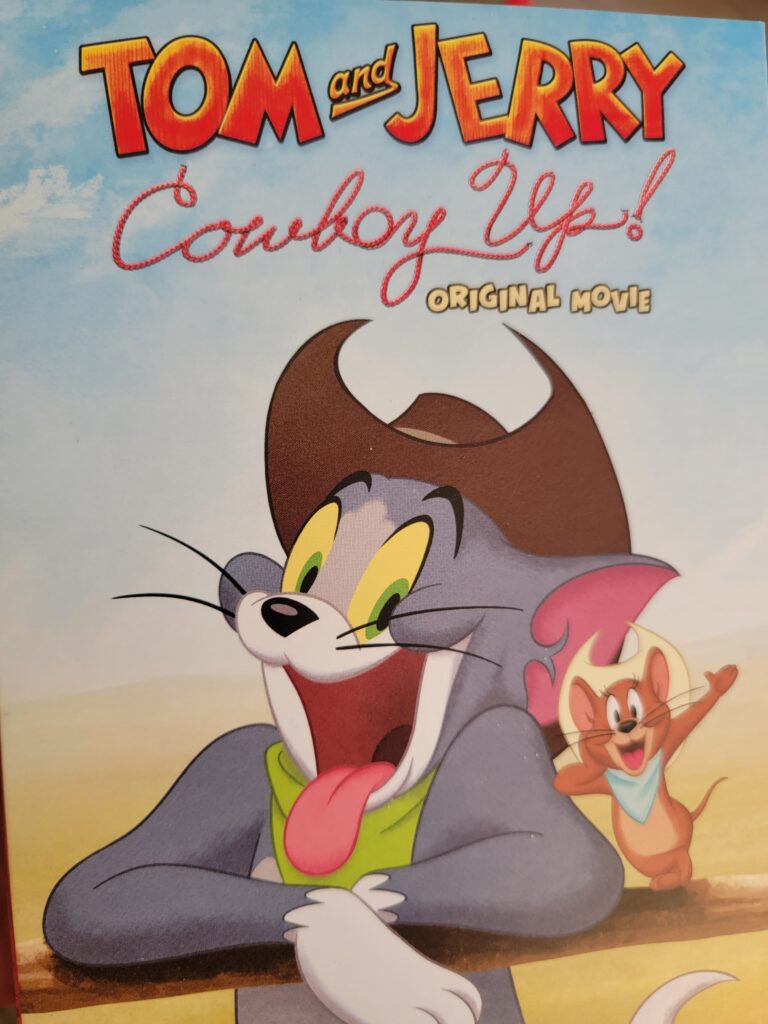 Tom and Jerry are back in an all new movie and we are excited.  I grew up with this wacky duo and now my son gets to watch them and fall in love too.  Tom and Jerry are the perfect crazy pair.  They are always getting into trouble and its not different in Tom and Jerry Cowboy Up.
Twitter Pitch: Yeehaw! Saddle-up for some fun with TOM AND JERRY COWBOY UP the all-new western-themed animated film from @WBHomeEnt coming to Digital & DVD 1/25
BURBANK, CA (November 2, 2021) – Everybody's favorite cat and mouse duo is back in action in Tom and Jerry Cowboy Up, the all-new, full-length animated family film set for release on Digital and DVD on January 25, 2022 by Warner Bros. Home Entertainment. Produced by Warner Bros. Animation, Tom and Jerry Cowboy Up finds the rip-roaring duo in the wild west where they help save a ranch from the hands of a greedy villain.  Cowboys and cowgirls of all ages will want to join Tom and Jerry in this new, original western-themed adventure that's filled with toe-tapping tunes and hilarious animated hijinks. Tom and Jerry Cowboy Up retails for $14.99 SRP ($19.99 SRP Canada).
The Wild, Wild West just got wilder with Tom and Jerry on the ranch! This time, the rivals team up to help a cowgirl and her brother save their homestead from a greedy land-grabber, and they're going to need some help! Jerry's three precocious nephews are all ready for action, and Tom is rounding up a posse of prairie dogs. But can a ragtag band of varmints defeat a deceitful desperado determined to deceive a damsel in distress? No matter what happens with Tom and Jerry in the saddle, it'll be a rootin' tootin' good time!
Tom and Jerry Cowboy Up features the voice talents of George Ackles as The Marshal, Sean Burgos as Bumpy, Trevor Devall as Duke, Chris Edgerly as August Critchley, Georgie Kidder as Scruffy, Justin Michael as Bentley, Kaitlyn Robrock as Betty, Isaac Robinson Smith as Zeb, Kath Soucie as Tuffy, Stephen Stanton as Virgil, Fred Tatasciore as Clem and Kari Wahlgren as Duffy, Jane. Tom and Jerry Cowboy Up was executive produced by Sam Register. The film was produced and directed by Darrell Van Citters. Story by Will Finn and teleplay by William Waldner.
Digital
Tom and Jerry Cowboy Up will be available to own on Digital on January 25, 2022. Digital purchase allows consumers to instantly stream and download to watch anywhere and anytime on their favorite devices. Digital movies and TV shows are available from various digital retailers including Amazon Video, iTunes, Google Play, Vudu and others.
The Basics
| | |
| --- | --- |
| Street Date: | January 25, 2022 |
| SRP (United States): | $14.99 (SD) |
| SRP (Canada) | $19.99 (SD) |
| Running Time: | 75 min. approx. (feature) |