Ready to get your blue on? Check out this berry sweet recipe for Chocolate Covered Berries inspired by The Smurfs: Season 1, Volume 3, available on DVD January 31! Click the link to join the snacktime  fun: https://bit.ly/SmurfsBerries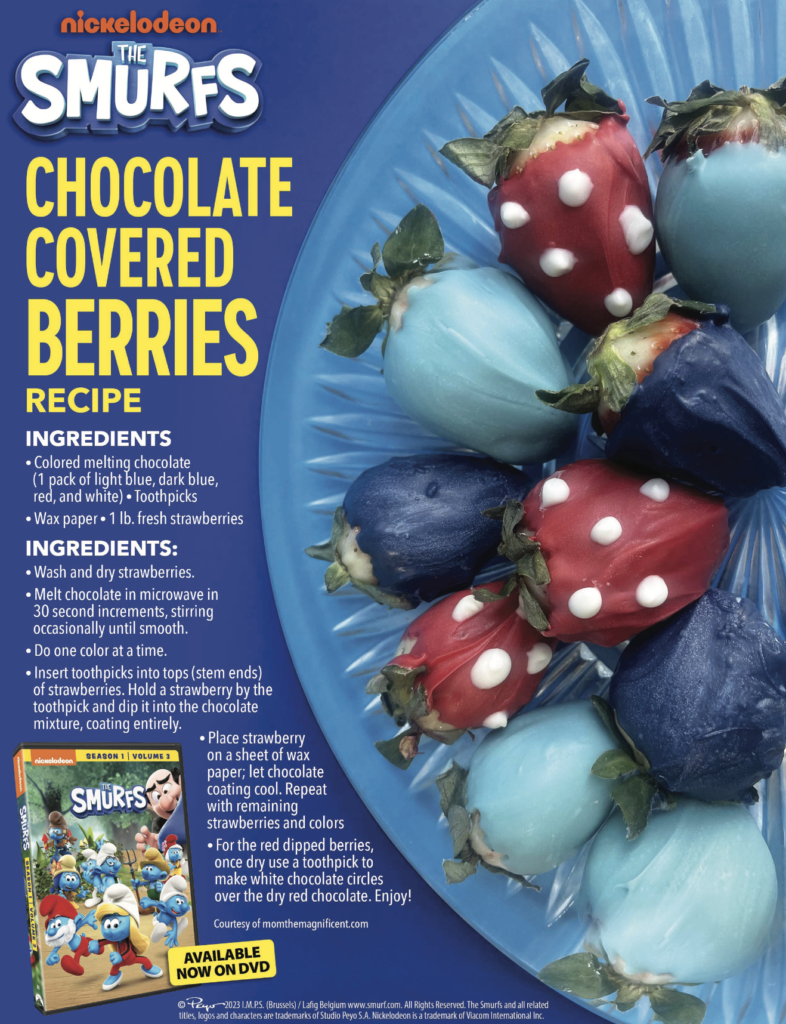 THE SMURFS RETURN WITH EVEN MORE AMUSING ADVENTURES
THE SMURFS: SEASON 1, VOLUME 3

Available on DVD January 31, 2022
LOS ANGELES– January 5, 2023 – The Smurf village continues to grow in the brand-new DVD The Smurfs: Season 1, Volume 3, featuring new Smurfs and your favorite classic Smurfs! Join the Smurfs as they play epic pranks on one another, celebrate Mother's Day, make a new monkey friend, and more all the while trying to escape the evil wizard Gargamel
The Smurfs: Season 1, Volume 3 will be available on DVD from Paramount Home Entertainment and Nickelodeon Home Entertainment on January 31, 2023, for the suggested retail price of $10.99.
The Smurfs: Season 1, Volume 3 episodes:
The Smurfs Show
Smurfboards / Monkey See, Monkey Do
Flying Ace / Lab Assistant
Order of Merit / Smurfy Mother's Day!
Leaping Lizards / Cover Story
Papa Times Two / Fake News
You're Fired! / Mirror, Mirror on the Armoire
Smurfing Places / Poet Slam
The Smurfs: Season 1, Volume 3 synopsis:
The Smurfs Season One adventures continue as Gargamel plants a crystal ball to spy on the Smurfs and they turn the tables on him! Vanity attempts to cure a zit and turns himself into a lizard instead. After being captured by Gargamel, Papa Smurf, Willow and Vanity offer to help him impress his mother, and so much more! This enchanted volume contains episodes 19-26 of Season One!