ADORAtherapy Mood Boost Spray Smart
Thanks to ADORAtherapy and Beauty Stat I got the chance to try out the new Moon Boost Spray Smart and I love it.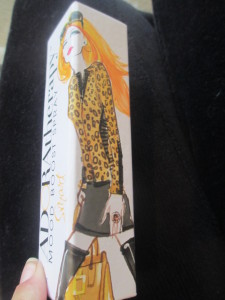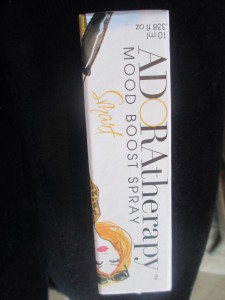 The packaging alone on this wonderful mood boost spray is just adorable.  I am already thinking of great things I will do with this box after I have used all my mood boost.  The thought and creativity that went into this design is fabulous. As you all know I have a lot of obsessions and perfume and scents are one of them.  I am true believe that the scent you wear for the day can truly change your mood.   I got to try out the smart scent and this one is right up my alley.  The smell is fresh and clean with Lemon, Grapefruit.  Fantastic scent to put on and get me working.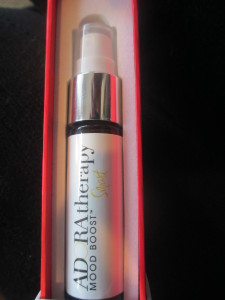 They have a few different scents for the Girl on the Go,
Seductive:  Sandalwood, Ginger.  For Aphrodisiac, Grounding, and Balance
Beautiful: Blood Orange, Jasmine. For Harmonizes Emotions, Enhances Creativity, and Uplifting
Smart: Lemon, Grapefruit. For Enhancing Concentration, Energizing, Refreshing and Cleansing
Balance: Rose, Gardenia. For Balance and Harmony, Calming, and Elevated Social Outlook
Inspiration: Peppermint, Chamomile. Stimulates and Purifying, Refreshing, and Relieves Fatigue
Awake: Tulsi, Frankincense. For Emotional and Spiritual, Balance, Energizing, and Mental Clarity
Peaceful: Lavender, Rosewood. For Calming and Soothing, Balance, Meditation and Tranquility.
With all these great scents you will find one for every one of your moods.  On a side note I think the Balance will be a must Gardenia was my wedding flower and it is one of the best smelling, to mix it with rose wow.  Now I know what you are thinking how do I get this great mood boost?  Believe it or not, not only is this your chance to be one of the first to have it but at a very reasonable price.  Right now they are trying to get these great new scents up and running so you will not only have the chance to get them off and running but also to get one for yourself.
If you pledge a certain amount today by going  —> HERE, ADORAtherapy™ will send you the following prizes:
Pledge $5 get a wrist band
Pledge $15 get a Mood Boost
Pledge $30 get a Good Mood Boost Package
Pledge $35 get a Mood Boost + T Shirt
Pledge $45 get a Mood Boost + Tote
Pledge $50 get 2 mood boost+ accessory
Pledge $100 get 7 Mood Boost
Pledge $150 get Wellness and Yoga Package
Pledge $175 get Gal on the Go Package
Pledge $400 get The Mood Boost Collection
Pledge $600 Private Intuitive Coaching
Pledge $1000 Silver Package
Pledge $1,500 Gold Package
To see Pictures of these great packages head to the link above.  These are fantastic deals to get your own and help the company get them out to more people.  They intended to send out your product within 45 days of the close day but it could be much sooner.
Adora Winquist, CEO, Founder and Chief Formulator of ADORAtherapy Mood Boost™, has pioneered the combination of aromatherapy and energetic healing, creating formulas with aromatics made from plant products around the world to stimulate the senses in a way that awakens the joys and passions of humanity.
Don't forget to get your pledge in today to make sure you are on the list to get your choice of these wonderful products.
To join ADORAtherapy on facebook head here
To Join Beauty Stat on facebook head here
This sample was provided by BeautyStat.com
I would like to note all though I was given this product free to try all opinions are my own I will always be truth-full with you guys. Please see full disclosure below