Get Unrobed    Kimono Robe
I got one of the cutest Kimono robe and loved it.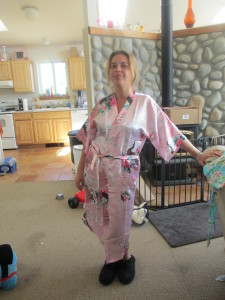 As you all know pink is my go to color so I had to pick the Pink Satin Kimono Robe $24.99.  This was so beautiful and very soft.  I love the way they fit lots of room to move around in, and woo hooo pockets.  They not only had very quick shipping but they were also great to work with.  The sizing chart was perfect and the colors that you see on the pictures were right on. I cannot tell you how many times I bought something and the color was way off when it came in the mail.  They have a ton of items to choose from including some great ones for bridal parties. You can get them personalized for your bridal party (what a great gift) or even for a birthday or holiday gift.  If you are looking for that hard to buy for person this is a great way to go.  Give them something that is not only comfy but they have a style for everyone.
The web site is very easy to maneuver, you can shop not only by style but you can also shop by color so if there is a certain favorite color you are looking for this makes it so easy to just click on the color and go.  If you are a mommy who spends most of the time in the house like me these robes will keep you comfy and warmer while giving the cute look that just your P.J's can't.  If you are a work out side of the home mom these will also give you something to just melt right into after a long hard day at work.  I love any accessory that you can add to your at home comfy clothes that give you that I feel beautiful feeling.  I would also like to note that when you get the chance come back and check out the site.  The owner sandy not only has some of the most beautiful robes but she is also a great writer.   I have a feeling we will see a lot of great posts coming from her.  Also check out her guest post here on the page she has come up with a great recipe for your whole family.
To join Get Unrobed on facebook head here
To buy your own Get Unrobed head here
To join Tabbys Pantry on Facebook head here
I would like to note all though I was given this product free to try all opinions are my own I will always be truth-full with you guys. Please see full disclosure below