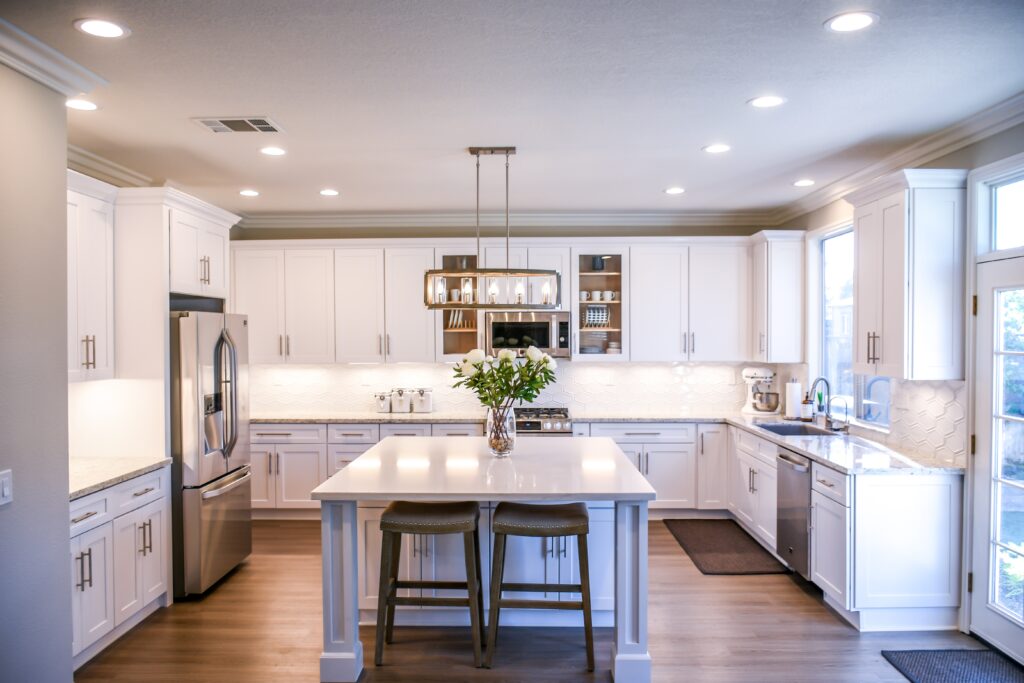 Photo by Mark McCammon: https://www.pexels.com/photo/white-wooden-cupboards-2724749/ 
Has the time come to update your kitchen? Depending on how long you have lived in your current home, you may have or not have updated your kitchen. If you have, then you will know the key to making it as stress-free as possible is to plan everything as far in advance as possible. The more prepared you are, the easier it will be when updating your kitchen. 
So what things should you consider when updating your kitchen? There are a number of key things to have on your list – will you want custom kitchen cabinets? Are you going to replace your appliances? What are you going to set your budget as? How soon do you need it completed? The list goes on. 
To help you with updating your kitchen, below are some of our top tips. 
What is your budget? 
One of the most important things to consider when updating any room in your home is your budget. What is your budget going to be for the project? Kitchen's cost can vary hugely depending on where you are going to get your kitchen from and the person installing it. Sometimes it's cheaper to buy the kitchen and then have someone install it, other times it's cheaper to have one company do both. Make sure you get multiple quotes to ensure you are getting the best price for your kitchen. And when setting out your budget, always use spreadsheet software like Microsoft Excel or Google Sheets to keep track of your spending. 
Are you going to replace your appliances?
When was the last time you updated your kitchen? If you replaced it more recently then you may find your appliances are in good condition and that it's your worktops and surfaces you can replace. This will not only save you money but help you be more flexible as your budget could be higher when selecting the design of your new kitchen. In most cases, people replace everything as they want a completely new design and that's alright as long as it fits within the budget you have set. 
Do you require new flooring? 
Another consideration when looking into updating your kitchen is whether you require new flooring? Flooring is of course another cost to consider and there are many different types you can choose from. You could go for laminate flooring, tile flooring, marble flooring and so on. Each has its own pros and cons which are worth researching before committing to one. If you need some inspiration, social media channels like Pinterest and Instagram are great for seeing what other people have done to their flooring – most will tell you where they got it from and a rough idea of the cost. 
We hope the above tips give you some insight into updating your kitchen. What tips do you have for updating your kitchen? Are there any tips that we have forgotten that you think should be included? Which of the above three did you find most useful? Let us know in the comment box below.