As most of you know I have terrible teeth.  I once broke a tooth on a piece of pizza.  What does this mean it means that even though I love Brittle I could never have it.  I was always afraid that my teeth would break.   Now I am so excited to say that I can enjoy Brittle and not be worried.

  Yes I know I still can't eat nothing but brittle but I can now snack on it when I am craving some brittle goodness.   Softer Than Brittle comes in 4 varieties: Peanut, Cashew, Pecan and Almond.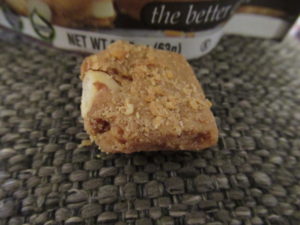 I loved every flavor.  I sat here writing all weekend snacking and could not be happier.  You still get a little crunch but not teeth crushing crunch.   I was surprised to find out this as dairy free, Gluten free and vegan.  This is really the better choice I don't feel guilty about snacking this fantastic brittle.

As we get on in years we still want out comfort treats I love that I can now actually eat it and it's a great choice when I need something sweet to snack on.
  Normally in our house the holidays are the time for brittle now I can actually have it all year round.  This will also be added to my Stocking Stuffer list this year.
  I got this free in exchange for an honest review.