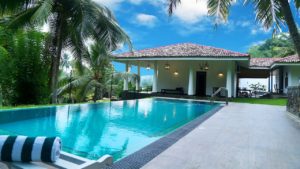 Now that the weather has officially cooled, it is time to start thinking about summer. In fact, having an underground pool installed in your backyard right now ensures that come summertime, you and your family have something to cool off in.
That said, before you jump into having a pool put in, you might want to consider what you are going to do with the surrounding area. More specifically, which type of concrete pool deck are you going to choose to install so that your pool is not only fun to enjoy, but beautiful to look at. You must make sure you choose the right decking material as there are a number of excellent options like timber to explore too. In this post, I will be looking at different types of concrete decking. If you do choose to go down the concrete route then you need to make sure that it looks good and lasts for decades so should look into concrete sealer. Check out Seal With Ease for more information about the right sealer for you.
It's not enough to learn how to calculate concrete costs when it comes to pool creation. You must add in the fact that a sizable deck is going to need pouring as well.
So, take a look at the most common concrete pool deck options available so that you have a plan when it comes to installing that waterhole in your backyard. Once you know what you want, you can speak to an experienced concreter to see if it's possible.
1. Colored Concrete
This is the most popular option when it comes to concrete pool decks. It's an easy way to add a pop of color to your backyard oasis and can be much more cost effective than stone or wood decking.
Plus, with colored concrete, you can create the impression that your decking is fancier than it really is by making it appear to be stone or wood.
Aim for a lighter color stain since they tend to reflect UV light better and stay cooler during the hot summer months. You don't want your kiddos burning their feet when they get out of the pool.
2. Stamped Concrete
Often coming hand-in-hand with colored concrete is stamped concrete. With stamped concrete, you have the option to have one intricate design stamped in a central location that draws attention and adds personality to your backyard.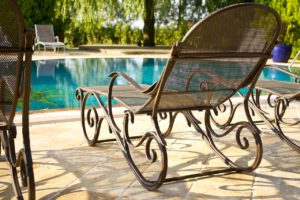 Or, you can have the concrete stamped to mimic natural stones, bricks, or slate. The benefits of this is that it is cheaper, easier to maintain, and lasts longer than the material you are trying to emulate.
3. Concrete Pavers
Pre-cast concrete pavers are another great way to add texture, color, and shape to your deck. Since concrete will maintain the shape it is molded into, concrete pavers can be made to look like stone or brick very easily.
In addition, you can have them individually stamped or colored so you can make the space surrounding your pool look fully customized, regardless of the shape.
Concrete pavers are durable, slip resistant (which is a bonus because pools create wet surfaces), and easy to install.
4. Rock Salt Finish
This low cost concrete deck option is perfect for those that want to add a little bit of texture to their deck, maintain the slip resistance that a deck should provide, and implement natural looking hues to complement their backyard.
Pressing grains of rock and salt into freshly poured concrete, this method offers a beautiful speckled finished product that appears to be a part of nature thanks to its subtle texture.
5. Exposed Aggregate
Another popular method many people choose for their concrete pool deck is to expose the aggregate (one of the main components of concrete).
This highly slip resistant material is perfect for a pool deck. Plus, with its tiny rock like appearance, that can remain its natural grey color or be stained, you are sure to be proud of your deck and want to have people over all the time to show it off.
In the end, using concrete for your pool decking may not come to mind initially. However, after learning of the possibilities, you may want to consider taking advantage of this beautiful material so that your summertime backyard is stunning – year-round. Concrete can offer you so much choice as I've mentioned here, so why not go for it? You can have it designed the way you want and just the way you want it. Make sure to choose a company like R&M Concrete that suits your vision and will give you what you need, research your local listings and see what you can come up with!