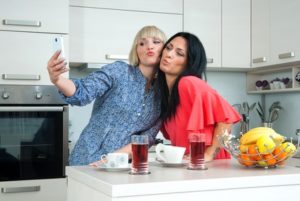 "Selfie" was given the distinct honor of word of the year in 2013. Oxford Dictionary defines it as a self-portrait, usually taken with a smartphone and posted to social media sites like Twitter or Instagram. The selfie craze is here to stay and everyone from the mom next door to our political leaders are snapping their own. Even Barack Obama isn't exempt, as he was photographed taking a selfie with Denmark Prime Minister Helle Thorning-Schmidt and UK Prime Minister David Cameron during Nelson Mandela's memorial. While part of a selfie's charm is its low-key and amateur feel, there are ways to take better shots of yourself. Here are some tips to get started.
Trade the Duckface for the Turtle
Sucking in your cheeks and puckering your lips is mockingly called "the duckface," but this pose offers less-than-flattering results. Instead, stick your neck out and do the "turtle" to eliminate the risk of double chins. The turtle can also make you seem more centered and alert in the shot. Whether you're sticking out your neck or taking a more relaxed pose, don't look down or risk casting unseemly shadows across your face. The turtle is good advice for just about anyone, but getting too carried away could lead to a stiff, over-posed shot.
Whatever pose you strike, a shaky camera can lead to a blurry selfie or cause bad lighting in the camera frame. Lean your smartphone against a solid object or get a case with a kickstand. Once your phone is positioned, just lean forward and get your shot. Furthermore, make sure your smartphone is equipped with a top-of-the-line camera, like the 12 MP rear-facing camera on the Samsung Galaxy S7 edge. A high-quality camera held steady will make for an ideal portrait.
Give More Meaning to Your Selfie
Instead of clicking a quick selfie, capture what you're seeing and responding to instead. The Frontback app takes a photo of whatever you're looking at and experiencing while also snapping a shot of yourself. The ultimate result is a simple collage, giving your selfie some context.
Other apps eliminate the need to perfect your selfie altogether. MomentCam turns your selfie into a work of art. Snap a shot of yourself, then watch the app turn it into a whimsical cartoon. The first app in the world to interpret pictures into cartoons, MomentCam's finished product looks like you sat for a caricature artist on a New York City street corner. The app Glitche can also transform your selfie into a creative expression by distorting the photo and turning it into an avant-garde creation.
Selfie Health
There's another reason to take selfies beyond online sharing, indulging in vanity or just having some fun. Cornell engineers created a smartphone cholesterol application for Rapid Diagnostics, or "smartCard" using your camera to figure out your cholesterol level. It can analyze the biomarkers in a drop of blood, sweat or saliva from your own self-snapshot and uses color analysis to give the results. So the next time someone pokes fun of your posted selfie, tell them you're just checking your cholesterol and staying healthy one shot at a time.