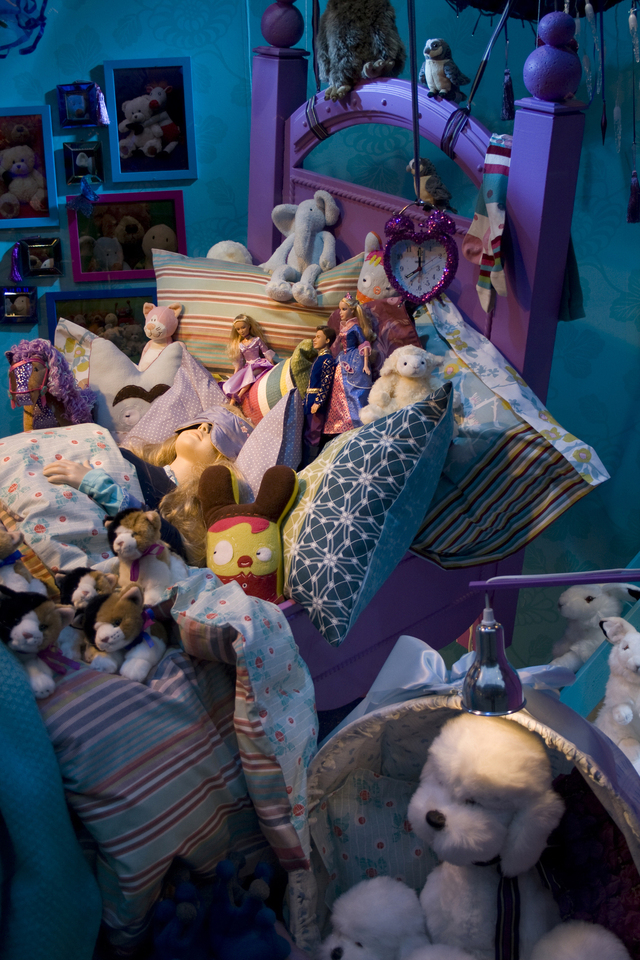 Credit: Hans Thoursie
Time for a refresh? How to update your child's bedroom without spending a fortune
They're growing up fast, and the tired pink curtains and Peppa Pig posters just aren't doing it anymore. It's time to create a space that reflects the person your child is growing into. Here are some thrifty ways you can get the job done together, and have a little fun in the process.
/body copy/
Children grow so quickly, and what might have suited their bedroom needs when they were younger may start to feel a bit babyish as they mature. An update can help them to feel refreshed and good about themselves, and create a cozy, functional room where they can play and rest.
It's just like Mary Poppins said: "In every job that must be done, there is an element of fun". So when it comes to redecorating, why not get the kids involved? Turn it into like a project – a fun venture for you to approach together – and allow everyone to reap the rewards of pride and satisfaction at the lovely space you finish up with.
As discussed in a previous post, changing just one aspect of a room can make a big difference to the overall aesthetic. Here are some fun ideas for updating a child's bedroom that are simultaneously thrifty and enjoyable – the best combination.
Check out your local flea markets and thrift stores
Not only are flea markets and thrift stores packed to the seams with unusual treasures, but they are a fun place to go for a weekend day out as well. They're great for kids as there's so much to see, and there's usually lots of tasty food and snacks on offer too. Flea markets are amazing for finding absolute bargains on things like furniture and soft furnishings, and they'll be much more unique than similar items you would find at any chain store. If you're into upcycling, you can also give a new lease of life to an old piece of furniture by painting or reupholstering it – another project you could tackle together! Find your nearest local flea market and give it a try – you never know what you might find.
Credit: Pexels
Create art together
Why buy loads of art when you can make it? Plus, whatever you make together will be so much more fun and personal than anything bought. Try finger painting, handprints, portraits, drawings of imaginary creatures – whatever takes your fancy. Pick up some cheap wooden or colored frames and arrange them on the walls like your own personal art gallery. You could even mix it up with some nice photographs as well.
Get creative with storage
There are so many clever storage solutions out there that help to keep the house that bit tidier. An effective way to approach storage for things like toys is to keep things within sight and reach. Make it easy to get things out and put them away – the less effort required, the more likely it might actually happen!
For bigger toys like teddies and so on, wall straps can work well, as the toys can simply be tucked into the strap instead of left on the floor. You could also try sewing a hammock or fabric organizer with little pouches – these are a fun DIY project and you can choose the fabrics and colors together.
If your children have a lot of books, keep them on display by using a couple of Ikea spice racks up on the wall in place of shelves. This way, the barrier keeps them secure and tidy until someone comes along and takes one. Having the books out and in plain sight will also encourage reading, which is a bonus.
Make a blackboard table or feature wall
Make any surface into a canvas for your child's imagination using blackboard paint. Whether you decide on a feature wall or maybe a smaller area such as a tabletop, either way it makes a great creative outlet and place to draw and doodle with chalks. You can even take it further and try it on drawers, doors and window sills.
Alternatively, you could make a feature wall themed around something they really love. Unicorn Wallpaper could be a great idea for your little one if they're enamored by the beasts, or you could go for dinosaurs, cars, fairies…the options are endless! And it means a little less chalk on the walls, too.
Build a nook
Alone time is important, whether it's for play, rest or simply letting the mind wander. A nook is the perfect cosy place to retreat to, be it an existing space or one that you create. Replace the closet door with a bright curtain and fill it with a lamp, books, cushions and crafty bits and bobs, and you have yourself a nook. Alternatively, fashion a cute tent-like den out of some pretty sheets and you're good to go. If you're crafty yourself, try your hand at origami and hang some cranes in different patterns and colours.
Most of all, enjoy the process and have fun choosing, making and exploring!