And the countdown to Christmas begins. It's December people, which means it's time for all things holiday. Family, friends, food… but starting out on a high note is crucial and that means spreading as much holiday cheer as humanly possible! So, how can we set the bar? By sending out holiday greetings! So, who is going to help us with this? Basic Invite!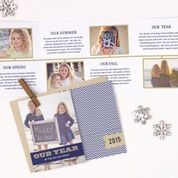 In case you haven't heard of them,
Basic Invite
is an innovative stationery design company whose stationery lines can be completely customized and instantly previewed all online. They're products are gorgeous and they carry everything from wedding invitations, to birth announcements and this season's topic of discussion – holiday cards.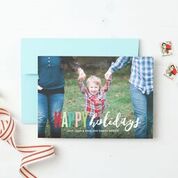 If you are planning on sending out some seasons greetings you should consider Basic Invite. They have over 250
photo Christmas cards
and foil
holiday cards
to choose from, each being completely customizable and completely beautiful! You can choose from different styles and themes and over 180 different colors for the design elements on any card you choose!
This time of year is special and celebrating it as such makes the cold a bit more bearable for everyone. That's why Basic Invite has rolled out a couple new and very special options for you!
This holiday season Basic Invite introduced an address capturing service that allows customers to simply share a link on Facebook, Twitter, Instagram, or any other form of social media to request their friends and family's addresses which will be stored in the customer's account and can then be selected during the design process. They've also carried over their lovely line of gold and silver foil onto their Christmas lines for that extra touch of shimmer.
Basic Invite will be offering recipients address printing at no cost on all Christmas card orders during the 2016 season. And all holiday cards are 30% off! Just use coupon code holi30 at checkout to receive your holiday inspired discount!