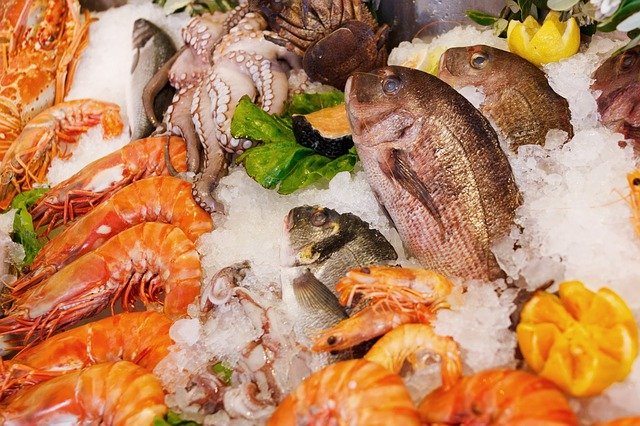 There are plenty of fish in the sea, but which ones are the healthiest? If you're trying to improve your diet and get back into a fitness routine, you need the right ingredients. You should choose seafood that's high in protein for building strong muscles and heart-healthy omega 3, but lower in mercury. If you're looking for tastier sources of protein, seafood is a great option because it's so varied and versatile. You can prepare a number of exciting recipes that are still well-balanced and incredibly nutritious. Here are the top five seafood sources of protein.
Squid
Squid has a high protein content and is packed with omega 3 fatty acids. It's meaty and makes a substantial meal. You'll definitely get the energy you need to get back into your fitness regime this spring. There are plenty of squid recipes that go beyond the classic fried calamari. If you get someone in your local fish market to prep it for you, it's quick and simple to cook at home. Squid is great in bisques, soups, pasta, risotto, and salads, so you can take your pick.
Salmon
If you want to fall back in love with healthy eating, scrumptious salmon is a good place to start. It's high in protein and low in mercury and sold in pretty much every supermarket. If you're a little shy of shellfish, salmon is a tasty alternative. You can grill it, poach it or bake it easily. Its strong flavor means it doesn't need much seasoning. You can prepare smoked salmon salads and appetizers, or you want to try something new, make your own sashimi.
Clams
Clams are perfect if you love shellfish. You might associate them with creamy chowders but you can easily lighten up this New England classic. Here is a healthy clam chowder recipe you can try. Clams are pretty versatile and work in other soups and stews and they're not difficult to prepare. If you soak the clams in freshwater for twenty minutes before cooking, they'll clean themselves.
Crab
There are many creative ways to use crab meat and it's a good source of protein as well. From decadent birthday brunches to fresh pasta dishes, you can find a fun way to feed all the family with crab. You can also buy the meat prepared so you won't have to worry about awkward moments trying to open it. Crab is ideal for making your own sushi, and you can even BBQ it on the grill. Whether you prefer it hot or cold there are plenty of delicious recipes to choose from. 
Shrimp
Shrimp is a succulent Southern staple and a great source of protein. It also has a low mercury content. To add more taste to your lighter meals, try these low-calorie shrimp recipes. Shrimp doesn't need preparation and can be sauteed ready in minutes. It's ideal for a busy lifestyle. Lack of time shouldn't mean compromising on your diet. Change up your protein sources for some seafood this year.