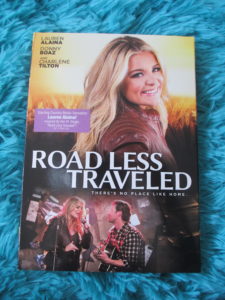 Who else loves a great love story?  Than Road less traveled is a must see this year.  Charlotte is ready to get married, but just can't find the right wedding dress.  She realizes the only one she wants to wear is her mothers.  Her grandma will not give it up so her and her two best friends travel to Tennessee to get the dress of her dreams.  This is a fun-loving adventure.  She runs into her high school love and sparks start to fly again.  Will she fall in love or is she going back to her fiancé?  This was a fun adventure that you will love.  I love the great music in the movie too.  If you are a country music fan this movie is a must.
SHOUT! FACTORY TAKES THE
ROAD LESS TRAVELED
TO DVD SEPTEMBER 19
PRESENTING COUNTRY STAR LAUREN ALAINA
IN HER FIRST FILM ROLE, ON THE HEELS OF TAKING HER HIT SONG
"ROAD LESS TRAVELED" TO #1
Los Angeles– July 11, 2017 – Shout! Factory walks down the Road Less Traveled with country star Lauren Alaina, when her first feature film hits DVD on September 19, 2017, in collaboration with MarVista Entertainment. Alaina shines in the leading role as a country singer dealing with family and career issues as she prepares to get married.View the trailer and pre-order now at Amazon.com andShoutFactory.com.
Alaina is fresh off of hitting the #1 spot on Billboard's Country Airplay chart with her single "Road Less Traveled," the film's title track, which she co-wrote with hit makers Meghan Trainor and Jesse Frasure. The track was released on her hit album of the same name in early 2017. An empowering and autobiographical song, "Road Less Traveled" celebrates authenticity and marching to the beat of a different drum.
In Road Less Traveled, country music artist Charlotte comes back home to Tennessee a week before she's set to get married, hoping to borrow her late mother's wedding dress from her grandmother. But when she runs into her high school sweetheart, Ray, sparks begin to fly. As emotions with Ray get complicated and her record label continues to pressure her to write a new hit song, Charlotte questions if she ever should have left Tennessee in the first place and if she's even marrying the right man.
Alaina, an iHeartRadio "On the Verge" artist, who finished as the runner-up to Scotty McCreery on the 2011 season of American Idol, has a second original song in Road Less Traveled, an inspirational love song titled "Holding the Other."
Directed by Blair Hayes (Bubble Boy; Great Plains), and produced by Stacia Crawford (Sheltered; Forsaken), the film also stars Charlene Tilton (Dallas; The Love Boat), Jason Burkey (Coffee Shop; October Baby; Chloe), andDonny Boaz (Dallas; My All-American; Forsaken).
I got this free to try in exchange for an honest review
Want even better news one lucky U.S winner is going to get the chance to win their very own copy.  Enter below for your chance.