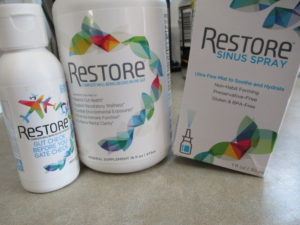 Have you heard of Restore?  When I first got the chance to try it out I really had no idea what it was.  Restore will help you balance gut health, support respiratory wellness.   Combat environmental exposure, promote immune function, and enhance mental clarity.  All this in just one teaspoon three times a day.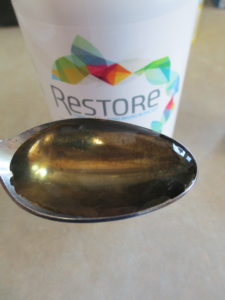 Now for the big question.  What does it taste like?  When I opened it, and saw a brownish liquid I thought for sure I was going to have to choke it down.  The truth is this really had no taste at all.  This was actually very easy to take.  Now if you are like me and always on the go, or in the summer always traveling.  No worries they even make a travel size so you don't have to travel with the huge bottle.  Each travel size is 6 days' worth.  I love that I can just pack and throw away the bottle when done no worries about packing a big bottle that might spill on your trip.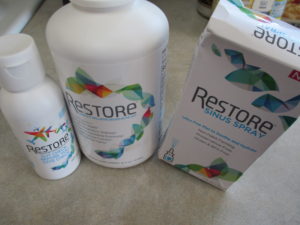 They even make a sinus spray.  Just hold your head up right and spray 2-3 times.  This will help clear out your sinuses for the day and sooth and hydrate your nasal passages.  I have used this for a few days now.  I am pleasantly surprised.  I thought for sure I would get the water up the nose feeling.  You know like when you jump in the pool and your brain is screaming.  Nope it was very gentle and helped flush out my nose every morning.  I also found that I did not have to blow my nose all day long anymore.
I was pleased with all of their products and would not mind at all adding them both to my daily routine.
Discount: 20% off everything at restore4life.com/try-restore-today/ using code B7X66JY. Code expires July 16, 2017
"I received this
product for free from Moms Meet (momsmeet.com) to use and post my honest opinions.
Compensation for this post was provided and this page may contain affiliate links."