It can be difficult to bring your many design ideas into a coherent style that works for your house. It might be that you've tried a few different layouts and designs, or else you've never taken an interest in interior design until now; but it can be quite easy to develop your rooms into an urban modern style which focuses on convenience and order. This will mean that it's easier to get housework routines into play while, at the same time, you'll find each room easier to relax in. Read on to find out how to pull off an urban modern style.
Kitchen
The kitchen is one of the rooms where a lot of housework takes place, and it needs to have good storage to keep all of your kitchen implements and appliances off the countertops. This is part of the reason that urban modern has become a popular style – because our houses aren't just for showing off, they need to be functional too. An urban modern style focuses on convenience, so in the kitchen you could employ the use of a corner storage cupboard that you can pull out for extra space. Having a fitted refrigerator with a regular cupboard door is another classic urban modern move. Remove any ornaments cluttering the windowsills and sides, and if you have a breakfast bar then get some stools with an unimposing modern design.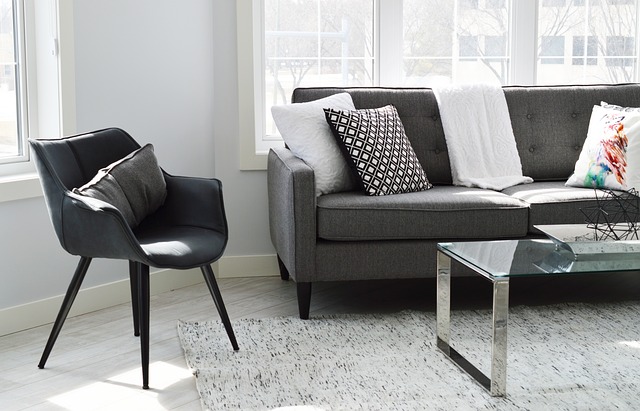 Living Room
One way to bring that urban modern feel into your living room is to arrange it so that the coffee table is the focal point of the room. This will give your set up a social edge. Get some couches which either match or go well together. If the rest of your room is scaled back and not too dominant, you can afford to get some loud, comfy couches. Remember not to over-clutter the walls with pictures, and to choose stylish pieces of furniture which add to the room's themes without taking over. Modern floor lamps subtly contribute to the room's ambiance, as well as a stylish TV stand which has inbuild storage. To finish this room off, make sure that the color scheme is consistent and your belongings aren't all on display.
Bedroom
You want your bedroom to be one of the most relaxing rooms in your house, and you can achieve this by employing many of the same techniques. Get a wardrobe that has a great storage capacity without leaving anything hanging out or on display. A large mirror will give the impression of more space, and you can take this further by choosing blinds instead of curtains so that you can get more natural light into the room. Spread out your furniture as much as you can and tone down the colors in this room – grey is a popular choice for a base color because it can be combined with accents of brighter colors to give you a relaxing and consistent theme. How about grey and yellow, or grey and olive green? Just remember to remove any aspects of the room that make it feel crowded or too in-your-face, and by utilizing modern storage solutions you can bring some elements of minimalism in which will only add to the relaxing tone of the room.