My little guy has gotten so into books lately.  When a new one arrives we have to read it right away.  My Pancakes Taste Funny Today was not only a very cute and well written children's book, but I also love that it has a lesson for kids in it.  Heather Wood Galpert and Bruce Galpert did a wonderful job writing the book.  Barbara Cate did a fantastic job illustrating it.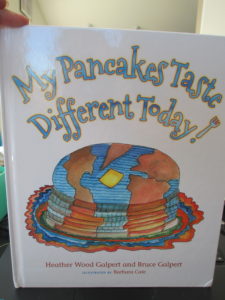 Not only did this book have a great story about a young boy who loved his pancakes and loved fishing.  It also told a story how not taking care of our environment can really change everything we love in life.  One little mistake took away his fishing and his favorite food in one swift move.  Now they will have to figure out a way to fix it.
If you are looking for a very cute book for your little one and a way to help him learn to take care of our environment this is a must have in your library.
I got this book free in exchange for an honest review.