In my family, we all love gardening. Spending a little time out in the garden can be so relaxing. A few years ago, we started planning for our family members we have lost. This started with the loss of my first son. We wanted something to remember him by and we wanted it to be special and beautiful. We planted a tree. I knew it wouldn't need too much maintenance, only needing a tree service every now and again but being able to watch this magnificent tree grow was something very special. Watching it change in the seasons and being able to appreciate it really did help me grieve and continue with my life. As the years, have gone by we have unfortunately added to the collection. I say unfortunately because we add when someone we love passes away.
I love that when we go out into our garden that I feel like my family members are right there with me. When planting trees in your yard there are a few things to consider. Where will they be planted? Do you know who your tree service professionals are? Is there enough room for the tree to grow? Also, please, please, please make sure there are no underground wires or pipes. You don't want the roots destroying these. There is a lot that needs to be thought about when it comes to taking care of trees though. You might not have realized this, but it's why so many people will make use of companies like this Gresham tree service company, as they can help look after the trees properly and you won't have to worry about it.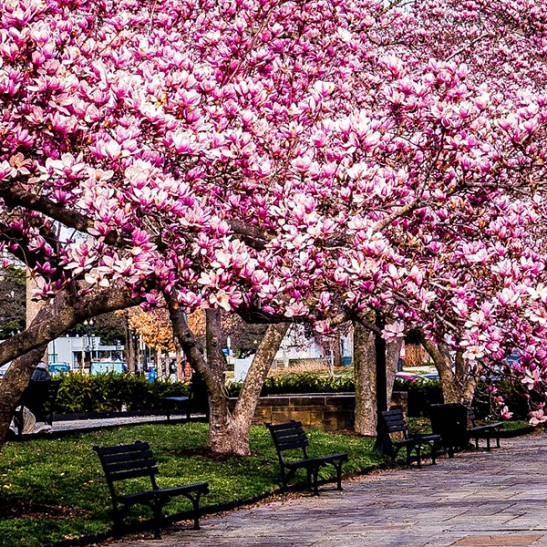 When I am picking trees, I love to go with ones that have beautiful colors like the Magnolia Tree. My mother likes to go for the fruit trees. Whatever you like I say go with it, this is your sanctuary. Just remember that like anything else in your garden trees need love and attention. If you pick the right tree it won't be that much work. If you love to spend hours out in your garden than why not go for one that needs a little more attention. We also love to add a few woodland creatures and gnomes to our world. My Aunt loves pigs so we got a pig in our garden for her. I love gnome so I got a gnome for me, my husband and my son. It adds a little mystical to our garden.
Gardens can be a special place for you. Whether you are creating your perfect garden for a memory or just because you love the look, think about adding a few trees. There is nothing like the shade of a tree that you planted on a warm summer day. It would also be worth having a tree removal/maintenance firm in your diary to prune your tree on a set basis to ensure it remains healthy. You can take a look at this link to see what different companies offer you in terms of pruning your tree to ensure it remains healthy!
This post was written in collaboration with the Tree Center