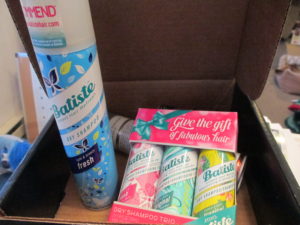 Have you ever had one of those days, you forget what you needed to do then all the sudden your hair looks like a grease trap. The other night I decided instead of washing my hair I was going to take a nice relaxing bath then take a shower when little guy goes to school the next day.  I woke up the next morning and little guys says "you're coming to school right mama" then it hit me yep I was class mom that day. Woops.  As you can see below even if I did a pony tail My hair was just nasty.   I was so excited to have my Batiste ready to go.  Just a few sprays work it threw and brush it out I no longer looked like a drown greasy rat.lol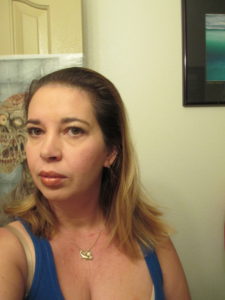 before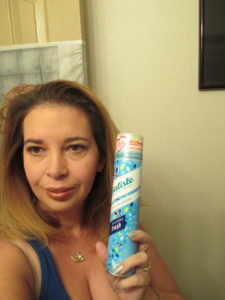 after
   With all the holiday party's coming up I have to admit I don't always remember.  I can't tell you how many times last year I lost track of time or just forgot about heading out to the party.  Now at least I know my hair will look and smell fresh and clean when I forget and have to rush out.  I love that Batiste not only has a fresh scent but you can even buy for different hair colors and they even have a fantastic holiday gift pack.  These minis are perfect for a stocking stuffer and perfect size to throw in your purse and have ready at any time.
  I love when a company not only makes a great product but they also make a special holiday version.  They make filling stockings this year so easy.
Don't worry all you can pick this up at great store near you.  No worries about having to order online and waiting for it.  Head here to see where you can find them.
I got this free in exchange for an honest review
Don't forget to check out our full Holiday Gift Guide