I remember growing up My little pony was one of my favorites.  I had all my, My Little Pony's lined up when it was time to watch them.  Back then they did not have the copy's you could watch at home.  Of course, there was also no DVR's either.  So, we had to be ready when it came on.  Now kids can watch their favorite movies or shows at any time.  I love that my son can watch when he wants too, and My little pony is a great cartoon for him with great life lessons.  I can feel good about my son watching such a great show.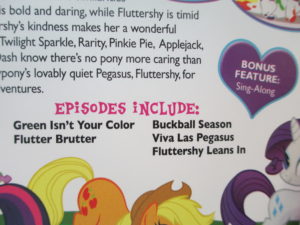 I loved these episodes I have a son that is just pure of heart like Fluttershy.  These were great episodes that show him that everyone is special and different.  That no matter who you are you are fantastic.  They were entertaining and fun for my son to watch.
MY LITTLE PONY – FRIENDSHIP IS MAGIC:
FLUTTERSHY
COMING TO DVD SEPTEMBER 12, 2017
"Sometimes, you have to do things, even though you might fail."
                                                                      – Fluttershy
Los Angeles, CA – My Little Pony – Friendship Is Magic: Fluttershy is coming to DVD on September 12 in the U.S. and Canada from Shout! Kids in collaboration with Hasbro Studios. 
Not every Pegasus pony in Equestria is the same. Just ask Rainbow Dash and Fluttershy. While Rainbow Dash is bold and daring, Fluttershy is quite reserved and caring. But that's what makes Fluttershy such a wonderful friend to everyone around her, whether they're her pony friends, like Twilight Sparkle, Rarity, Pinkie Pie, Applejack and, yes, even Rainbow Dash , or her non-equestrian friends, like Angel the bunny. Join in for five adventures that feature everypony's lovably quiet Pegasus, Fluttershy.
My Little Pony – Friendship Is Magic: Fluttershy carries a suggested list price of $14.98 and is now available for pre-order at amazon.com, amazon.ca, and shoutkids.com.
Episodes Include:
Green Isn't Your Color
Flutter Brutter
Buckball Season
Viva Las Pegasus
Fluttershy Leans  In
Bonus Feature:
Sing-Along
I got this free in exchange for an honest review
Want even better news one lucky U.S winner is going to get the chance to win their very own copy.  Enter below for your chance.