During the summer months, motivation levels are high, and we are more eager than even to go outside and exercise. But as soon as the temperature starts to drop, this motivation begins to decrease. Going for a run or heading to the gym when it's cold and dark outside isn't very enticing. So it can be tempting to just stay within the comfort and warmth of your home instead. While doing this once in awhile won't hurt, doing it throughout the winter can have adverse effects on your fitness. You'll undo all of the hard work you put in during the summer, and you may experience weight gain too. This could mean that you have to start from scratch once the new year arrives.
To prevent this from happening, you need to maintain your workout regime throughout the winter months. To help you regain your motivation and to make winter exercise more manageable, use these inspiring ideas.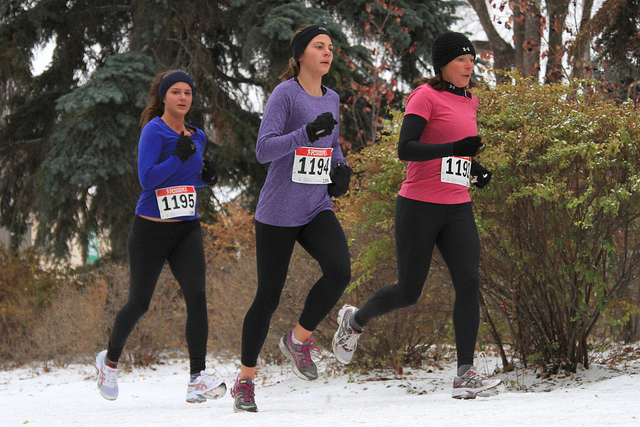 Dress the part
The main reason why so many people dislike exercising during the winter is the cold weather they will face. Especially if their workout regime involves running, jogging or cycling outside. Focus and drive can easily be lost if all you can think about is how cold you are. It can also make you quit early or not want to take part in your regime at all. While you can't do much about the weather, dressing the part can make you feel more comfortable.
Wearing sportswear designed for the cold and wet winters can make a big difference to your workout. It allows you to stay warm and dry which encourages you to complete your workout in its entirety. Some items also include reflective panels which can keep you safe during dark mornings or evenings. Even if you do the majority of your exercise at the gym, winter sportswear can be beneficial for you too. You can wear them to provide protection from the wind and rain as you walk to or from your car. This can help you continue to stay comfortable and improve your mood before you start. So look for thermal and waterproof sportswear online or in store to help you feel more prepared.
Switch things up
As well as the adverse weather conditions, lack of motivation can also be caused by boredom. If you've been doing the same workout continually, now is the perfect opportunity to try something new. You could start a new hobby that involves exercise such as dancing, swimming or kick-boxing. There are often held at gyms or community centers for a small fee. Why not ask a friend to join up with you to make it even more fun. You could learn how to set up a volleyball net and install one in your garage or yard. This could be ideal if you want an activity that encourages your whole family to stay active too.
If you usually exercise outside, why not try working out at the gym during winter instead. This can introduce you to personal trainers and exercise equipment that could improve your fitness even more. Whatever option you do use, make it a contrast from what you are used to. That way, you will experience a boost to your energy levels and motivation.
Remind yourself of the benefits
Believe it or not, studies have found that exercising in cold weather can actually be beneficial to our health and fitness. Regular exercise during the winter can strengthen your body's immune system. This means you are less likely to contact seasonal colds and flu, which could make you feel terrible. Your endurance levels will experience an increase which can provide you with incredible results. There's even evidence to suggest that exercise can help you combat the winter blues. This is due to the mood-boosting endorphins your body releases when you work out.
But the most welcomed benefit of working out outside is that your body burns more calories. During cold temperatures, your body needs to work harder to function and stay warm. This can speed up your metabolism and burn more calories and fat as a result. If you're desperate to lose weight, this might be the solution you've been looking for. So next time you're tempted to stay in and watch TV, remind yourself of these benefits to give you instant motivation.
Even though it's colder, wetter and darker, exercising in winter doesn't have to be so off-putting. With these ideas to inspire you, it can be just as enjoyable and worthwhile as your summer workouts. So get out of your hibernation mode and start keeping your fitness levels maintained all winter long.