Everyone likes to think that their home is inviting. If you feel as though your home could be warmer, or more welcoming then you have come to the right place. Here you can find out if there is anything that you can do to make your home more suited to entertaining guests, while also making sure that you are making the right changes.
Let your Front Door Set the Tone
Never underestimate the inviting power that comes with curb appeal. Winter is tough, but that being said, you still need to make sure that you keep up with everything. You need to clean your front door, sweep up and also shakedown your welcome mat. It's helpful for you to add a friendly and welcoming sign that says "hello" as well. If you want to create some welcoming vibes, then put a big green plant at the side of your front door. Guests will then get an eyeful of life as soon as you open the door. This is a fantastic way for you to make sure that your home is truly welcoming.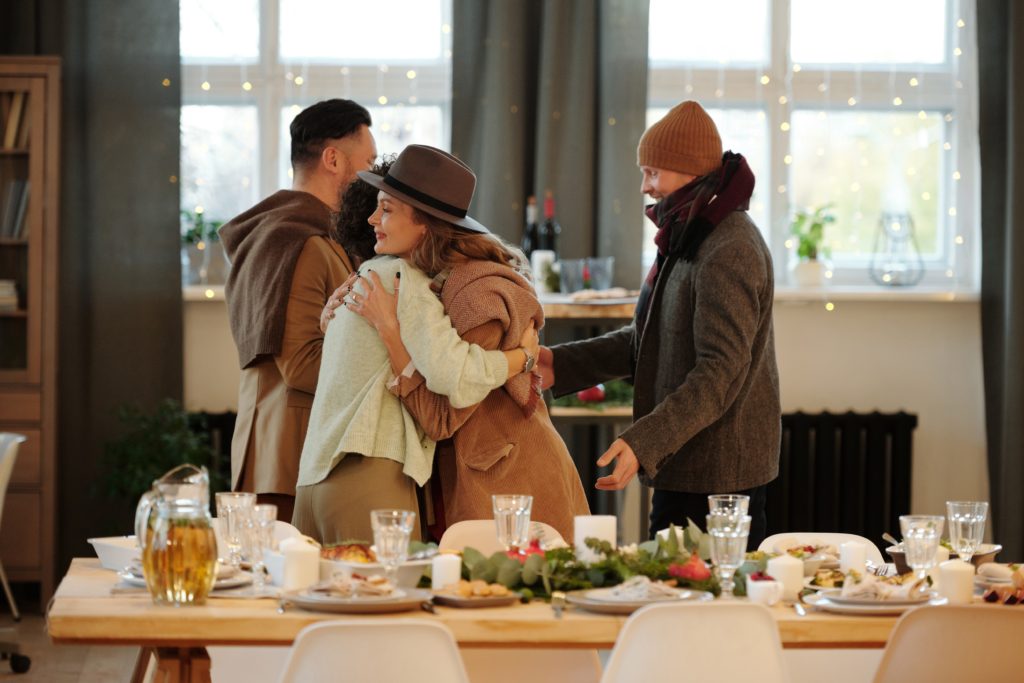 Use Color and Design Tricks
Consider your guest's first view of your space and then pay special attention to this. Adding fun artwork or lighting is a great way for you to try and capture their attention. This will literally pull people into your home if you put it across the front door. It will also help them to want to stay awhile and explore what other fun elements your home has to offer. Things like this are ideal if you want to make sure that your home is the most welcoming that it can be.
Have an Easy Seating Arrangement
You may not mind moving a chair out of the way to get to the dining table, but your guests probably won't feel the same way. Smaller homes are notorious for things like this, so you have to make sure that you are putting in the work to avoid this if possible. Never squish something that is oversized into a room and also don't put tons of things on the floor either, as this will make it very difficult for your guests to move throughout your home. If you have kids, then you may want to try and make sure that you invest in some storage bins. When you do, you can then make sure that everything is put away and that everything has its place. This is a fantastic way for you to make sure that your home is not being overwhelmed with clutter. Remember that you can also invest in storage bins for your own personal items too, so make sure that you keep that in mind if you can.
Go Overboard with Houseplants
This is very self-explanatory. Lots of plants are ideal if you want to breathe some life into your space. On top of this, they make it feel incredibly welcoming. If you are no good at taking care of plants or if you continually forget to water them then you have nothing to worry about. It's very easy for you to buy house plants that require very little maintenance, and this is a great way for you to ensure that your space feels brighter, bigger and more welcoming. If you are not quite sure where to place your houseplants then look into your alcoves, on top of your sideboard and even in the bathroom. This will help you to add an element of life to your home and it will work wonders for your decoration.
Soft Textiles
This might be obvious, but it is also the most effective. Make sure that you opt for plush rugs and also try and invest in layers for your sofa. Floor pillows and ottomans are ideal, not to mention that you can also frame textiles for wall art if you want.
Soften any Harsh Lines
Straight and harsh lines, even those that are on very firm upholstery, can look seriously unpleasant. They can also work against you if you want to create an inviting space. You can try and incorporate round rugs if you want, not to mention that you can invest in round pillows. If you want to try something different then take a soft blanket and throw it over a corner so that you can break up any lines. Believe it or not, this will help you to really make your home more welcoming.
Personalize
If you have a lot of furniture, then you need to try and personalize it if possible. Take your dining chairs and reupholster them with some fun fabric. This will help you to stop your home from looking like something out of a magazine and it will make it look way more welcoming. The more you can do to add your sparkling personality to your home, the more you will make it easier for people to feel right at home so keep that in mind if you can. If you have outdoor furniture then painting it in a fun and bright color is a very good thing to do, so keep that in mind if possible. If you haven't gotten any outdoor furniture yet, then check out this guide if you want tips for choosing the best outdoor wicker furniture.
Design Details Matter
Ideally, you need to try and create a space that feels like you. You need something that is full of detail, regardless of how tiny they are. This will make your space feel full and it will feel like your guests are getting a stylish hug.  If you don't know how to incorporate small details, then try and get some whimsical coasters for your coffee table. You might also want to get a book for your table as well. This will help you to add pops of color to your space and again, it will help you to bring everything together.
Have some Great Smells
If you can't have any great smells, then at least make sure that you do not have any bad smells. If you can, try and take note of the smell of your home when you come home from work. What hits your nose as soon as you walk in through the door? If you notice that it isn't too pleasant, then make sure that you get rid of the odor. You might also want to invest in a fragrant plant if you can, as this will add to your home, and it will also make it smell way better too.
Clear your Clutter
Nobody wants to have to push aside tons of clutter just so that they can sit on the sofa. This is not fun for anyone who lives there either. If you can, you need to do your bit to try and create a clean space for your guests. If you can do this, then you know that they will feel both invited and welcome. If you don't know where to put your clutter then remember, it's very easy for you to invest in some storage boxes, so you can eliminate a lot of the issues that come with having too much stuff around the house.
A Nice Temperature
Keep your home at a very nice temperature at all times. At the end of the day, it's never fun for you to visit someone's home if it is just too hot or too cold. You need to keep your guests in mind if you want to make them comfortable. If you look at the standard setting on your thermostat, this is probably the average temperature people like. If you like your home to be a little warmer then there's nothing wrong with this, but you do have to make sure that you accommodate the temperature to your guests and their preferences when you have visitors.
Designated Places for Coats and Shoes
You have to designate somewhere for coats and shoes if you can. The great thing about doing this is that it will help your home to appear way more organized and it will also help it to look cleaner too. This is very helpful for guests as they will not feel as though their belongings are in the way or even cluttering up your home. If you are not quite sure how to make room for your guests and their items, then consider investing in a coat rack and also make sure that you have a shoe storage bin. This will help to keep any mud off your carpet, and it will make things easier for them too. 
Hang a Wreath for the Upcoming Season 
There's something nice about having a wreath at your front door. It will make your property look so much more welcoming and it is also a very easy way for you to add some instant seasonal cheer to your home. If you aren't sure which style of wreath to go for, try and follow the general décor and style of your home.