Even though savoring a meal together is an enjoyable activity, it can be hard to prepare something healthy that everyone likes. Here are some ideas and tips that you can use to provide healthy and satisfying meals with ease, and get the family eating together more often.
Get the Family Cooking Together
Parents can get the family multitasking by being together while preparing a meal. There is something to do for most every member of the family. Start off slow by preparing just one of the dishes of a meal together. By practicing making a dish in the kitchen, your children are learning how to work as a team with their family. Starting with basic tasks when they are young, children will build a sense of competence in the kitchen that will grow as you help them learn more detailed skills as they get older.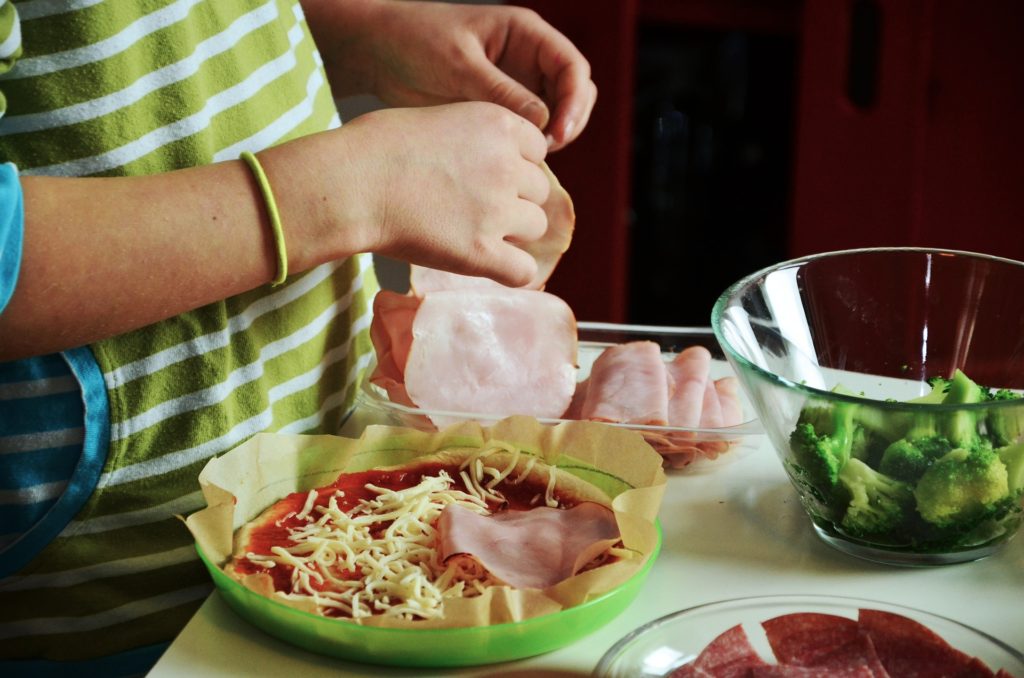 Children will also learn safety with kitchen implements while you are teaching them how to cook. Start your child out using kitchen tools that are easy for them to handle, and walk them through the process of using the tool such as a potato peeler. In fact, the family can work together on a list of kitchen rules that everyone must follow. This helps raise awareness of the dangers of getting cut or burned while preparing a meal. Supervision is key to getting your child off to a safe start in the kitchen. By building onto simple skills gradually, children will develop confidence and self-reliance in the kitchen that will last them the rest of their lives.
By participating in the preparation of a meal, a child that is a picky eater has a greater chance of at least trying a dish that he may not have otherwise. A good meal to start out your children's kitchen experience is tacos. A parent can cook the beans, chicken, or beef, older kids can dice vegetables and shred lettuce, and the youngest can set the table and get condiments out. Each family member can make their own tacos with the combination of ingredients that they like.
Nutritious, Home Cooked, and Easy
It is hard once kids are in afterschool activities to fit a home cooked evening meal into the day. Everyone is tired from the work of the day and may have additional activities or responsibilities in the evening. The abundance of demands on each family member's schedule makes it even more important to have balanced and nutritious meals to sustain health and energy. Finding recipes that only have a few ingredients like this breaded chicken (only 6 ingredients!!) are such a big hit, super tasty but super simple, winner winner; breaded chicken dinner.
A great meal that takes less than 30 minutes to make is Tuna Pomodoro. Made with whole grain pasta and omega-3 boosting tuna, this dish is appealing and easy at the same time. For a change of pace very once in a while, try breakfast for dinner. Whole grain pancakes, scrambled eggs with peppers and greens, and turkey sausage with a side of fruit is a fun change to the usual dinner staples.
Great Tasting Plants for a Sustainable Future
Using more plant based ingredients and implementing them into meals is not only sustainable for the environment, its sustainable for our bodies as well. By using fewer resources to produce animal based ingredients, utilizing plants keeps food production costs down and conserves valuable resources. When we eat more plants instead of animal based ingredients in our products, our bodies benefit from a wide range of vitamins without extra fat or cholesterol. Food company Hampton Creek is on the forefront of promoting healthy plant based food products that taste great and are easy to use in meal preparation.
Getting more vegetables Into kids
It has been a perennial problem in our modern society to get children to eat more vegetables. A variety of strategies abound for coaxing children to eat to consume more produce. Everything from lacing veggies with butter and bacon in order to make them more `tasty' to serving the vegetables first and demanding their consumption has been suggested. Often times much less extreme measures such as exposing children over time with just one bite expected and setting a good example work over time with children.
Offering a healthy foundation by choosing, preparing, and eating food together as a family will result in great memories of time spent together. It will also prepare your children to have a lifetime of healthy eating habits.