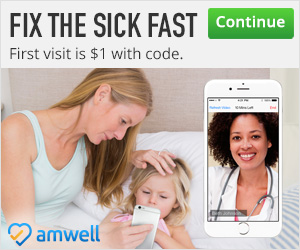 "This is a sponsored conversation from Mums the Word Network and Amwell. All opinions are my own"
If you are anything like me, you don't have time to sit at the doctor's every time you are sick.  You need to get better but you also have to do school drop off, pick up and everything in between.  So when I am not feeling well last thing I want to do or have the time to do is go sit in the doctor's office for 2 hours hoping they get me in.  Especially in my town.  We have one doctor and if I am sick it means so is the rest of the town.  Getting in is like winning the lottery.  With Amwell I can now talk to a doctor right from my own computer in no time at all.  It took about 2 minutes for us both to link up.  I also love that they also have neutralist that can help with my picky little eater.  If you need medication don't worry they can still take care of this in almost all the states so your own pharmacist can have them waiting for you.
Now for all you moms out there I have even better news.  YES, they can see your kids and you can get a note for school from them.  That's right all, now not only do you not have to drag your sick kids to wait in the doctor's office for hours but they can also prescribe what your kids need and get you a note for school.  I don't know about you but sick days with my kids are hard enough this really does make it a little easier.
Amwell is quickly becoming "the Amazon of health care" They are quick, easy and cost so much less than our normal visits.   Now guess what all.  Amwell knows you are going to love them so they are even going to give you your first visit for $1.  Using Coupon Code HEALTHY48