Managing your family commitments, as well as work can be challenging. If you spend most of your day at the office or commuting, you might be considering a career change that works around your kids and home life. You can get additional training, increase your earnings, and get more flexibility in your life. Below you will find five great career choices to consider.
Freelance Editor
If you have been working as a writer, or can tackle any of the writing prompts given to you with your great writing skills, you can become either a freelance writer or an editor. Writing can be challenging at times, however, over the time, you can train as an editor. You might have to learn everything about AP style and English grammar, but you can earn decent money whenever you have free time. Working from home will also allow you to cut your commuting time and expenses.
Mental Health Professional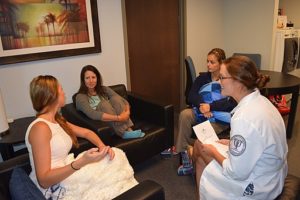 Image via Wikimedia Commons
If you are passionate about caring for people, and want to help them get their lives back on track, you might become a mental health counselor or nurse. You can work for a private organization with flexible hours, and still look after your family. Check out the top mental health counseling graduate programs that will help you secure a job in this industry. Mental health professionals can choose their hours when working in a private clinic, to suit their family commitments.
Business Advisor and Analyst
If you have an executive or business management experience, maybe a financial degree under your belt, you can become a consultant for companies and choose your own hours to work. This job will involve creating reports for managers to help them make the best strategic decisions that will improve their business. You can also offer business analyst services for firms that don't have full time staff to look through their accounts and provide insights of their financial situation.
Health Coach
In case you are passionate about your health and want to help others get healthier, you can also train as a health coach. Work at a health center, clinic, or from home; you will find that this is a rewarding career choice with great perks. On top of that, you can become healthier yourself, and learn how to encourage your kids to eat better and exercise more.
Market Researcher
Analytical people who are good at numbers and people can start their market research company, or join an existing firm offering these services to corporate clients. You will meet people from all walks of life, and you can choose which days and hours you want to work. Your job will involve administering and wording surveys online, leading focus groups, and interviewing people. A great way of improving your people and communication skills.
Most mothers working 9-5 find it difficult to balance their home life with their professional career. If you would like to get a job that gives you more flexibility and works with you and your family, you can choose one of the above professions, get a more rewarding position, and more time with your family in the evenings and weekends.