COUNTRY CRUSH
A CONTEMPORARY NEW MUSICAL STARRING JANA KRAMER
AND MADELINE MERLO COMES TO DVD MARCH 14
EXCLUSIVELY AT WALMART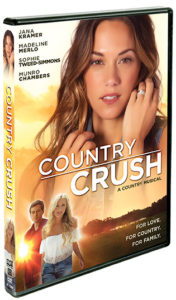 Los Angeles, CA – Country comes to town when the new musicalCountry Crush is released on DVD on March 14 by Shout! Factory, available exclusively at Walmart. Starring Jana Kramer, a finalist on last season's Dancing With The Stars following the release of her latest chart-topping album 31, Madeline Merlo, currently touring in support of her album Free Soul, Munro Chambers, known for Degrassi: The Next Generation, and Sophie Tweed Simmons, as seen on Gene Simmons Family Jewels, this is a classic love story with contemporary themes and hot country music performances. Please click here to view the official Trailer (HD).
From director Andrew Cymek, this heartwarming, and sometimes heartbreaking, film tells the story of city-girl Nancy Taylor (Madeline Merlo), an aspiring singer who is struggling to launch her career and navigate a relationship with an opportunistic music producer. While on her way to a party out in the country with her best friend Ainsley (Sophie Tweed Simmons), her car breaks down and a good-hearted and handsome stranger named Charlie Bishop (Munro Chambers) shows up with a tow. Sparks fly between Nancy and Charlie, two young people searching for love, both unsure of the paths they're on.
Charlie and his sister-in-law Katherine (Jana Kramer) have recently said goodbye to his older brother Cody, who has shipped out to the Middle East for another tour of duty. Katherine is facing all the love, worry and waiting that accompanies the deployment of a spouse while also being there for Charlie as he faces his own disappointments and loneliness. As Charlie decides to pursue a relationship with Nancy, and Nancy struggles with decisions about her career, Charlie sees with new eyes the importance in staying true to oneself, and begins to question his own choices. While their courtship is in turmoil, his brother's sacrifices serves as a reminder of the price of love when it is lost.
With its themes of love, duty and strong family values, woven together with a dynamic soundtrack, this is a film that will appeal to multiple generations, and tug at the heartstrings of all families. Country Crush is sure to run away with many hearts.
Shout! Factory, LLC is a diversified multi-platform media company devoted to producing, uncovering, preserving and revitalizing the very best of pop culture. Founders Richard Foos, Bob Emmer and Garson Foos have spent their entire careers sharing their music, television and film favorites with discerning consumers the world over. Shout! Factory's entertainment offerings serve up feature films, classic and contemporary TV series, animation, live music and comedy specials. In addition, Shout! Factory maintains a vast entertainment distribution network which delivers culturally relevant programming, movie and audio content to all the leading digital service providers in North America and across multiple platforms. Shout! Factory owns and operates Shout! Factory Productions, Scream Factory, Shout! Factory Kids, Shout! Factory Films, Mystery Science Theater 3000, Timeless Media Group and Shout! Factory TV. These riches are the result of a creative acquisition mandate that has established the company as a hotbed of cultural preservation and commercial reinvention. Shout! Factory is based in Los Angeles, California. For more on Shout! Factory, visit shoutfactory.com.