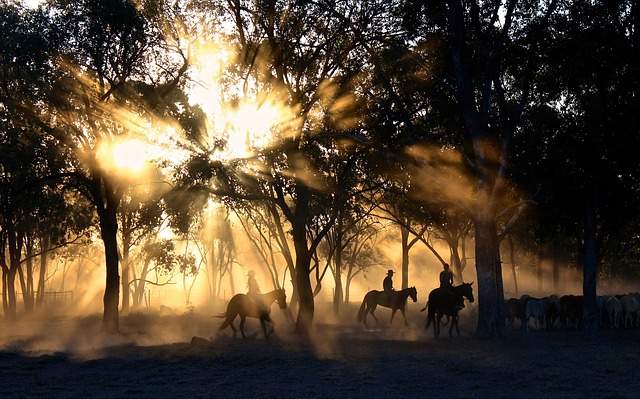 Many people dream of owning a ranch, envisioning a place with lots of land, animals and perhaps even a meandering stream running through. Perhaps you hope to earn your living as a rancher, after all the US Bureau of Labor and Statistics shows the average rancher earns nearly $68,000 a year – not bad if you don't have to commute to an office and can enjoy the great outdoors at the same time, right?
While owning a ranch can be profitable, there's a lot to consider when scouting out properties, whether you're looking at land for sale in Michigan or somewhere else. 
Cost
The first step before buying is to carefully go over your finances to determine what you can afford. That budget will help you figure out the size, features, best location for your ranch and more. If you aren't a cash buyer, you'll need to figure out how you'll finance your purchase. Keep in mind that on top of the purchase price, there are going to be a lot of maintenance and operating expenses that don't usually come with a residential property.
Size
If you're thinking about cattle ranching, it's important to consider the size of the land vs. how many cattle you'll have. If there are too many, it can lead to increased soil erosion as well as depletion of food sources. Before deciding on the size of the property, decide how many cattle or other livestock you'll have.
Zoning
If you're buying empty land and not an already working ranch, be sure to look into the local laws to find out if ranching is permitted in the jurisdiction. In some areas there are restrictions on building, or you may need a zoning permit. If you move forward and end up violating any of those laws, you could face some steep penalties.
Water
Once you know the type of ranch you want to have, determine the water requirements. The needs for a working ranch can vary significantly depending on hay, irrigation, livestock and more. Animals, as well as plants, obviously need water just like humans do for life. Water resources are also important if you hope to maintain wildlife habitats.
You'll want to make sure the property you buy has the water rights and proper features like flowing water that will accommodate your requirements. Rights can be very different in different areas of the country, and in each state. 
Climate
If you're hoping to work fertile ranch land, it's important that the property be in a location that isn't prone to drought or it could spell financial disaster. When looking at an unfamiliar area, be sure to check data for annual temperature and rainfall trends.
Environmental Conditions and Neighbors
You don't want to purchase a property near a toxic dump or where there's a lot of pollution in the air as it could lead to diseased livestock and high costs for medical care and/or reduced output. Be sure to find out who your neighbors will be and what's happening on any land that would be adjacent to yours.