Like a lot of families, we only have one bathroom at our home. This means that the whole family has to share one small space. While this isn't really an issue as I've got organization sorted, it does mean the space isn't exactly as glamorous as it could be.
A friend of mine recently did up her family bathroom to make it more of an elegant and luxurious space. She reached out to a team of master bathroom remodelers and they did such a fantastic job that, I thought I would share a few tips for how you can do the same. Don't make the mistake of thinking that just because it's a family space, your bathroom can't also be a glamorous one, because that's not the case.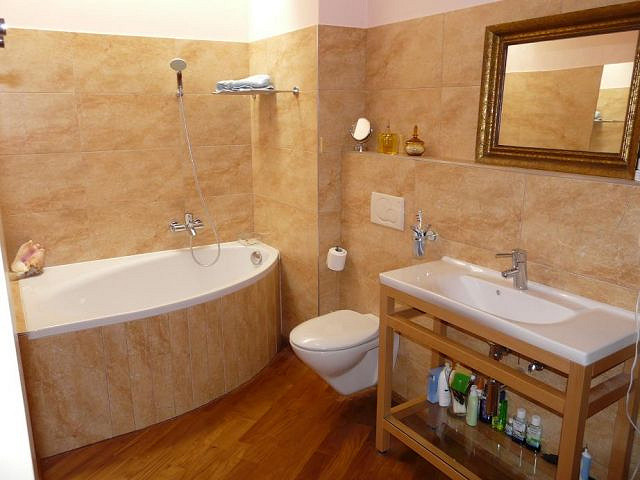 Get inspired
The first step that you need to take is to get inspired. This is crucial if you want to be able to create a beautiful bathroom that's stylish and family friendly. The good news is that there's plenty of inspiration and ideas online, it's just a case of knowing where to look for it, that's all.
One of the best places is, of course, Pinterest, because it's packed full of lots of ideas. Any that you like the idea of or think are suitable for your bathroom save so that you can refer to them later on. Pin them all into one Pinterest board, so that they're easy to find and refer to.
Come up with some ideas
The next step is to come up with some ideas for your bathroom. Take the inspiration that you have into account, as well as your bathroom size and style, and come up with some ideas for adding glamour. Believe it or not, this isn't as difficult as you would think, it's just a case of getting creative. Think about what features you could change, without making your bathroom less of a family space. If you want to add a touch of luxury to your fixtures, check out these shower panels by ANZZI. It's important to think about the changes you want to make and the products you want to use.
It doesn't have to be anything big; it could be as simple as changing the color of the walls and updating a few of the fittings and fixtures. Maybe you've seen a feature you're desperate to incorporate? Perhaps you want to include a certain type of decor? Whatever it is that you want, think about how you can include it in your bathroom revamp.
Seek professional help
If you don't have the time to update your bathroom yourself and come up with the perfect design, it's best to call in the professionals. When it comes to bathroom remodels, using a professional design company can be incredibly helpful.
This will allow you to share your dreams and ideas for your bathroom and find out from the experts what is and isn't possible. For example, getting a window replacement to ensure that your family has the privacy they need while in the bathroom. It can be daunting to think about, but luckily there are places like this window replacement phoenix az service that may be able to give helpful advice for what you need. It will also make the process of updating the space quicker and easier. Something that, when you have a family and only one bathroom, is essential.
Want to add a little extra glamour and elegance to your family bathroom? Take note of the above tips and ideas, and with a little creativity and inspiration, you can do. Believe it or not, your family bathroom doesn't have to be a dull, boring space. It can be somewhere that's beautifully stylish, it's just a case of getting the decor right.