AllGlamR Introduces "The Gift Box"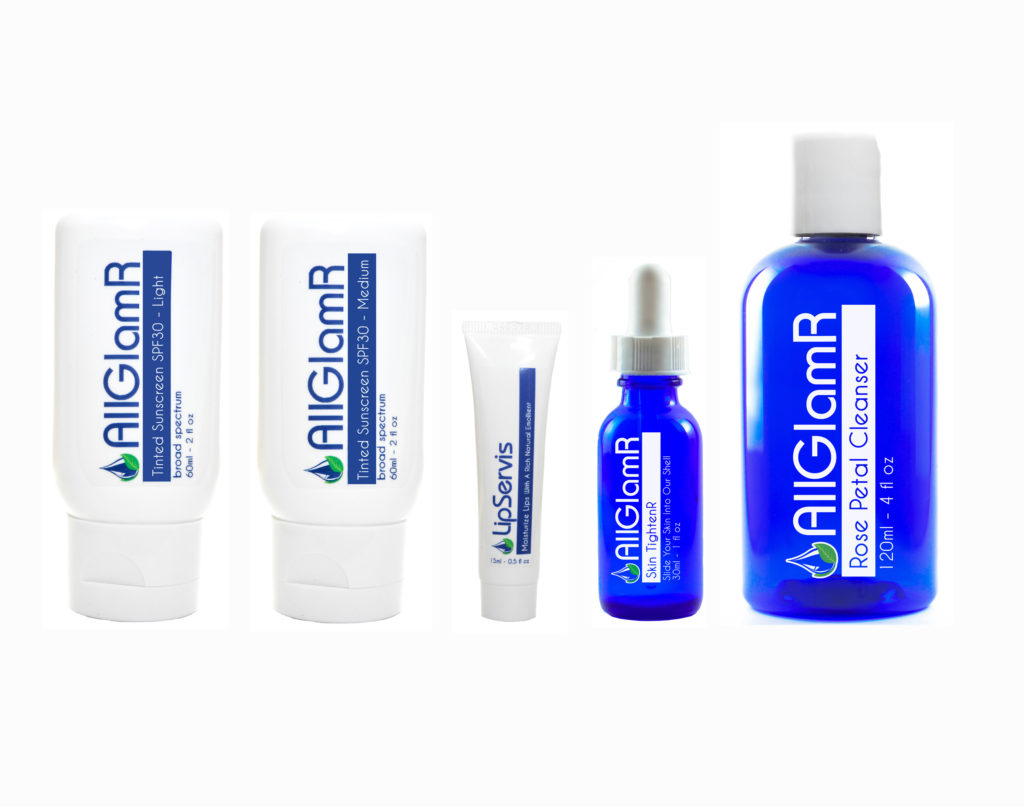 For Holiday Gift Giving and Beyond
Great skincare is the ultimate luxury gift – one that keeps on giving long after the holiday season is over.
This season, AllGlamR introduces The Gift Box, a high-powered natural collection of 5 essential lightweight products that make professional skincare simple, fast and easy. Luxuriously boxed and ribboned, they include: AllGlamR Rose Petal Cleanser, AllGlamR SkinTightenR, AllGlamR Tinted Sunscreen (in Light and Medium shades), and AllGlamR multi-purpose LipServis, a celebrity favorite.
This special collection offers the gift of healthy, glowing, flawless skin at every age, and is made with ingredients including rosehip oil, seaweed extract, botanicals such as Aloe, Lavender, Calendula, Hops, Lemon, Horsetail as well as with Hyaluronic Acid, Vitamins A, C, E, and F.
The AllGlamR Beauty Box does it all.  The collection hydrates, boosts collagen, regenerates cells, reduces fine lines, and increases elasticity – working in all climates from dry to humid. It also includes tinted sunscreen protection to leave skin glowing without make-up.
AllGlamR Beauty Box contains:
AllGlamR Rose Petal Cleanser (120ml/4 fl. oz.): Made with Rose Hip Oil, potent, extracts of ancient healing Chinese Loquat flowers and leaves, and Seaweed Extract to cleanse all skin types deeply, naturally and gently.
AllGlamR Skin TightenR (30ml/1 fl. oz.): Incorporating the best of nature, science, and K-beauty for face, eyes and neck. Made with Aloe, Lavender, Calendula, Horsetail, Hops, Burdock, Lemon, Yarrow, Hyaluronic Acid, Retinal and K Beauty's star ingredient purified Snail Mucin.  It fights free radical damage, lifts and reduces sagging, nourishes, tones, smooths, and rejuvenates.
AllGlamR Tinted Sunscreen (60ml/2 fl. oz.): With Zinc Oxide and Ferrous Oxide, is broad spectrum, non-irritant, and hypoallergenic. It moisturizes and hydrates while giving skin a sheer, even glow without make-up.
Multi-purpose AllGlamR Lipservis (15ml/0.5 fl. oz.): A staple in many Hollywood make-up artist kits, it can be used to nourish lip, smooth and moisturize lips – as well as hands/nails/cuticles, highlight cheeks and eye area.
Priced at $229.50, the AllGlamR Beauty Box offers a 20% savings of individual products, especially for gift giving.
About AllGlamR
AllGlamR is a natural anti-aging product line designed to help prevent and reduce visible signs of aging. Each product is created to help nourish, hydrate and regenerate skin cells as well as help increase collagen and elasticity levels.  AllGlamR is paraben-free, and made without harmful additive and irritants. All products in the line contain nutrients with natural, restorative benefits.  They are made in the USA and is not tested on animals.
The brand was founded by Gina Caruso, master aesthetician and leading skincare educator.  She has worked closely with leading spas and dayspas, and highly-credentialed dermatologists and plastic surgeons for over 25 years. She also headed the aesthetic division at British hair industry icon and former Vidal Sassoon Artistic Director Maurice Tidy's salons. Her aesthetics and paramedical aesthetics knowledge is extensive, and she is frequently quoted in major industry and consumer media. After working with virtually every major skincare brand in the professional industry, Gina Caruso has now developed her own AllGlamR line to offer results not possible to find in existing products.  Her motto in skincare (and in life) is "it's never too soon or too late."
Available in fine salons, day spas and spas.  www.allglamr.com. 
Instagram: @itsallglamr, Twitter: @itsallglamr, and Facebook: @itsallglamr