Guys this is so cute I just downloaded it.  Just hit google play below go to movies and search for A Storks Journey it will pop right up.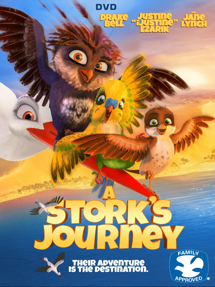 A young sparrow raised as a stork must prove he has what it takes to be a stork when the family animated film A STORK'S JOURNEY is available NOW to download for FREE on Google Play for a limited time from Lionsgate Home Entertainment.
GET READY TO SOAR ON THIS GRAND ADVENTURE
STARRING THE VOICE TALENTS OF DRAKE BELL,
JUSTINE "iJUSTINE" EZARIK AND JANE LYNCH
AVAILABLE FOR FOR FREE FOR A LIMITED TIME ON
GOOGLE PLAY STARTING JUNE 1, 2017
CLICK HERE TO WATCH THE TRAILER
May 16, 2017 – (Los Angeles, CA) – Take flight on a grand adventure for the whole family with debut of A Stork's Journey for free for a limited time on Google Play, beginning June 1 from Lionsgate.
Featuring the voice talents of Drake Bell (Superhero Movie, "Drake and Josh"), YouTube star Justine "iJustine" Ezarik, and Jane Lynch ("Glee," Wreck-It Ralph), A Stork's Journey follows Richard, a sparrow orphaned at birth and raised by storks who believes that he is a stork, too! But when winter comes and the storks prepare to migrate to Africa, his stork family must reveal his true identity and leave him behind in the forest with the other sparrows since he would not survive the long journey. Determined to prove he is a stork after all, Richard ventures south on an epic adventure, accompanied by friends big and small, to unleash his true potential and be reunited with his family.
This family-friendly, feature-length animated adventure will be available to redeem for free* for a limited time onGoogle Play from June 1 to June 28, 2017. A Stork's Journey will make its debut in theaters on June 30 and will be available on DVD, Digital HD, and On Demand on July 4.
*U.S. & Canadian residents only
The Dove Foundation awarded A Stork's Journey with 5 Dove's, their best rating, "due to it's originality and fun storytelling," The film is Dove "Family-Approved" for all-ages and is "entertaining and fun for the entire family."
DVD/Digital HD Special Features
"Giving the Characters a Voice: At the Recording Studio with Drake Bell, Justine 'iJustine' Ezarik and Jane Lynch" Featurette
PROGRAM INFORMATION
Year of Production: 2017
Title Copyright: Program Content and Package Artwork © 2017 Knudsen & Streuber Medienmanufaktur, Ulysses Filmproduktion, Walking The Dog, Mélusine Productions, Den siste skilling. All Rights Reserved. Artwork and English Audio © 2016 Grindstone Entertainment Group, LLC. All Rights Reserved.
Type: Home Entertainment Premiere
Rating: PG for some mild peril
Genre: Family
Closed-Captioned: N/A
Subtitles: English, Spanish
Feature Run Time: 84 minutes
DVD Format: 16×9 Widescreen 1.85:1 Presentation
DVD Audio: English 5.1 Dolby Digital Audio