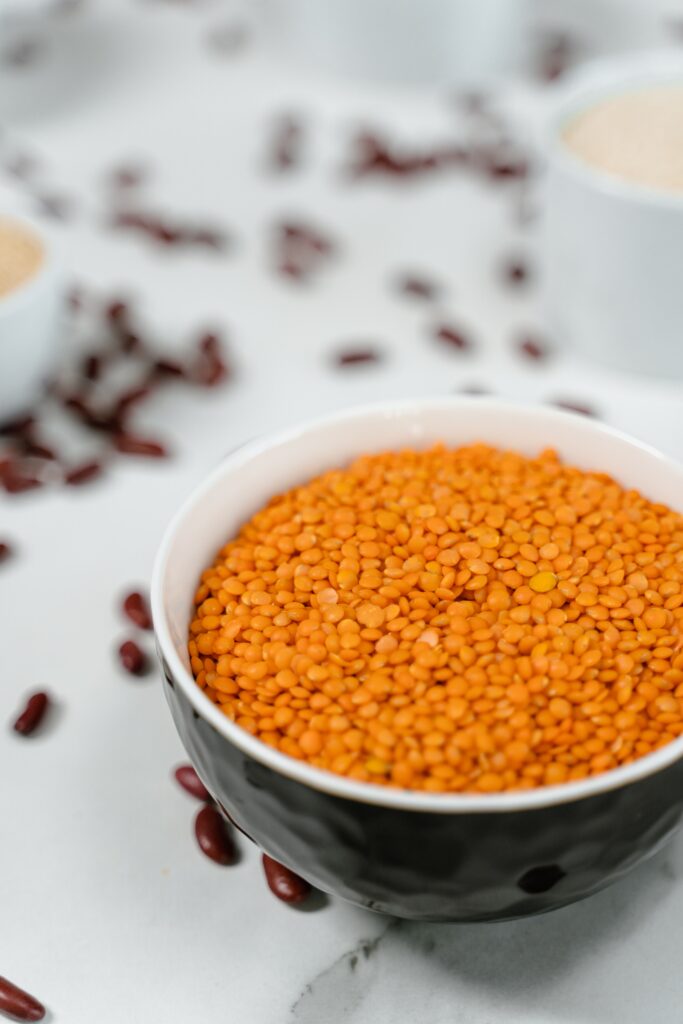 Lentils are part of the 'legume' family along with beans and peas. They grow in pods and are typically eaten dried (you should never eat lentils raw as they can make you quite sick).
Lentils have many health benefits. They are a great source of protein and are very good for the heart – they are often eaten by those doing cardiovascular exercise. They are also a good source of fibre and also contain lots of potassium, vitamin B and iron. 
There are lots of different ways to cook with lentils. Below are just a few popular lentil dishes that could be worth trying to make at home.
Dal Tadka
Dal Tadka loosely translates as 'spiced lentils'. It's a staple Indian dish that's hearty, vegan and gluten-free – perfect for when you want something filling but healthy.
There are a few variations of this dish using different types of lentils. Split lentils are the best option as they cook a lot faster than whole lentils.
These lentils are cooked with a variety of spices, which typically include garlic, ginger, coriander, garam masala, turmeric and curry powder. Make sure to also include some onions, cilantro, pepper and tomatoes. This restaurant style dal tadka recipe explains more. Feel free to swap out ingredients to match whatever is in your pantry. 
Koshari
Koshari is the national dish of Egypt. It's made of lentils, rice and macaroni pasta. This is topped with spicy tomato sauce and garlic vinegar, and garnished with chickpeas and fried onion rings.
Garlic juice or hot sauce are sometimes drizzled over the top. However, you can enjoy this hearty dish as it is without any extra toppings.
This authentic Koshari recipe is worth a read for those who are interested. It includes a guide on how to make the spicy tomato sauce from scratch (it's pretty much all staple kitchen ingredients – tomato, onions, garlic, coriander, salt and pepper). 
Cotechino
This Italian dish is typically eaten at New Year, but you don't have to wait until then to try it. It consists of pork sausage on a bed of lentils – the pork sausage is sliced to resemble coins to inspire prosperity. 
You can make your own cotechino sausage, or you can buy it from a specialty Italian butcher. Buying it pre-made is without a doubt easier, but if you don't have any Italian butcher's shops in your area, making your own cotechino is obviously the best option. 
As for the lentils, cook these with some onion, garlic, carrots and cloves for extra flavour. You can also mix in cooking fat from the sausage.
Thai lentil curry
Thai curry is a great option for when you fancy something a little spicy and exotic. Although typically served with meat or seafood, you can prepare a vegan-friendly option by using lentils.
You can prepare the curry using a handful of ingredients, which include: lentils, onion, coconut milk, red curry paste, soy sauce and brown sugar. If you've got a little extra time, consider making your own red curry stock to go with it – this can thicken it out and add flavour.
Thai curry is typically served with rice. Add as much or as little chilli as you want depending on how spicy you're willing to go. 
Lentil lasagne
For a tasty vegetarian lasagne, why not swap out meat for lentils and roasted vegetables? This can help to give the filling a creamier texture that melts in the mouth.
Lentil lasagne is prepared much like a regular lasagne using pasta sheets and cheese for layers, separated by the lasagne filling. For a great recipe, check out this vegetarian lasagne guide.  
Lentil tacos
You can also put lentils into tacos as a substitute for meat – a great option if you're planning a Mexican night.
If you're feeling lazy, buy some premade tacos or even a taco kit. Alternatively, you can try making your own tacos from scratch. 
You can put all kinds of fillings into tacos. Onions, garlic and peppers are popular choices, but you can add virtually any other ingredient from sweetcorn to mushrooms. Feel free to also throw in some salsa or guacamole. 
Lentil burger
There's no shortage of veggie burger recipes out there. Lentils are sometimes overlooked as a burger filling, but can be a tasty option.
Lentils can go great with mushrooms, greek yoghurt, cloves and paprika. You can also make a lentil pattie by combining lentils with carrots, onion, walnut and sunflower seeds for a wholly vegan option. 
Slap this in a bun with a sauce of your choice and serve with some fries. Voila! You have a tasty veggie burger meal.