In this day and age, it can seem like a challenge to keep your kids away from their screens. As a matter of fact, it has been estimated that only one out of three American children spend time on physical activity every day. But many times, parents are at fault for not instilling the love of physical in their kids at an early stage. The sooner you get them to enjoy physical activity, the greater the chances they'll develop into active young adults. Here are some simple tips you can use to make your kids more active.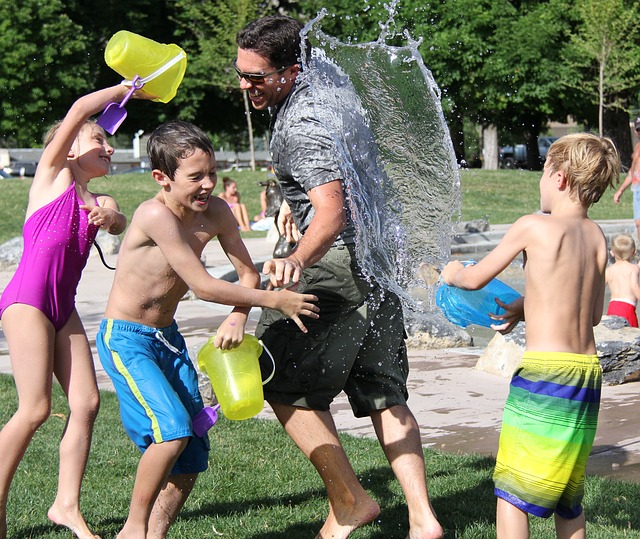 Be Active Yourself
The best way to get active is to be a good role model and lead by example. Kids naturally want to emulate their parents and be more like adults, so if they see you being active and enjoying the benefits of an active life, they will want to join in. Try to constantly talk about the benefits of exercise so they might be intrigued and see it as a positive thing.
Make it Fun
Physical activity doesn't always have to be about exercise. If you can, try to make your home more conducive to fun physical activities. A backyard pool is a great way to get them into swimming, and swimming is one of the best physical activities you can partake in. You could also go do a bit of research and learn how to find an affordable trampoline that you can add to your backyard. If you do this then make sure you use the safest trampolines so no one gets hurt while having fun. Most children love trampolines, so you know it will be put to good use. And not only that, but trampolining can be deceptively demanding and a great way to improve overall fitness. Any way that you can associate fun with physical activity will increase the chances of them voluntarily being more active.
Listen to them
Also, you should listen to your child and find out what he enjoys. Maybe he wants to grow up to be a professional basketball player. That would be a great opportunity to add a basketball net to your driveway or even get them to join a league. But make sure that they actually want to join since they might lose interest and actually come to resent the sport if you push them too hard.
Limit Screen Time
This one can be a little more delicate. If your child has already formed an addiction to screens, then getting them to unplug might be a challenge. However, by taking baby steps, you can reduce their dependence. You can start by instilling rules like no screens during dinner. Or hold a family game night every week where everybody unplugs from their devices. This way, they won't associate time away from their devices as punishment and you'll also be able to form a much closer bond as well.
Conclusion
With these few simple tips, getting your child to be active should be a breeze. Just remember to start early and try to make it as fun as possible if you want them to make it a habit.